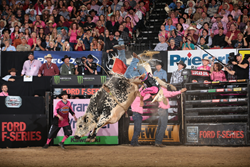 Pueblo (PRWEB) October 17, 2016
Clinically-proven daily recovery drink for body aches and pains Play Again Now® has announced a sponsorship deal with Professional Bull Riders (PBR) for this year's Built Ford Tough World Finals at the T-Mobile Arena in Las Vegas from November 2-6. Play Again Now works closely with sports medicine doctors, orthopedic surgeons, chiropractors and physical therapists, who recommend the drink to their patients either recovering from injuries or suffering from chronic soreness.
As part of its partnership, Play Again Now® will exclusively sponsor a new aerial SKYCAM, which will provide those fans tuning to CBS Sports Network's broadcasts of the PBR World Finals with a new and compelling high-quality vantage point, putting them on top of the most exciting eight seconds in sports. The new SKYCAM, which is the world's only stabilized camera system that can fly anywhere in a defined three-dimensional space, will offer fly-ins and full arena coverage.
The 2016 PBR World Finals features five days of the greatest bull riders in the world taking on the rankest bulls – with $1 million to be awarded to the 2016 PBR World Champion – and a stellar line-up of live concerts headlined by Steven Tyler. The World Finals are the culmination of PBR's elite Built Ford Tough Series, which is having its most successful season ever. In 2016, the PBR Built Ford Tough Series has set 12 event attendance records with PBR on CBS Sports viewership up by 16%.
"Bull riders are tough, and their bodies take a real beating over the course of a season in riding the world's most powerful bucking bulls," said Debbie Ecksten, President and Founder of Play Again Now®. "Taken daily, Play Again Now® is helping our most active and athletic users with injury recovery, muscle soreness and lifelong mobility. Play Again Now® was formulated for injury-prone athletes and active people of all ages who want to feel better, recover faster, play harder, and stay in the game."
Play Again Now® will be at one of the year's marquee sports events mingling with fans as well as offering bull rider autograph sessions on the concourse outside T Mobile Arena on Thursday, Friday and Saturday of World Finals Week at times to be determined. Play Again Now® representatives will be available to explain how active people of every age and fitness level can benefit daily with this breakthrough recovery drink.
Play Again Now® contains two naturally-occurring active ingredients: high-molecular-weight hyaluronic acid (HA) and methylsulfonylmethane (MSM). HA and MSM are clinically-proven to support the body's natural, anti-inflammatory action in order to reduce soreness and discomfort. It offers hydration and lubrication for joints, ligaments, tendons and soft tissue – all of which happens in as few as five days with daily use.
"Play Again Now® is a proven alternative to over-the-counter and prescription drugs that have dangerous long-term side effects," said Ecksten.
About Play Again Now®
Play Again Now® was created by Debbie Ecksten, an entrepreneur with a passion for horses and staying fit. After witnessing the restorative and preventive effects of HA on horses, she researched how its properties could safely be used for human benefit. In 2011, she founded Viscos LLC, providing people of every age and fitness level with oral liquid, high-molecular-weight hyaluronic acid dietary supplements for whole body health. Play Again Now is free of caffeine, gluten, carbs and calories, as well as over 200 banned substances as tested and certified by the Aegis Sciences Corporation. It is manufactured in the U.S. in a pharmaceutical cGMP compliant manufacturing facility. Play Again Now® is available for purchase on Amazon.com, GNC.com and numerous retailer across the U.S.
For more information visit the website: http://www.PlayAgainNow.com or contact info(at)playagainnow.com at Facebook at Facebook.com/PlayAgainViscos, Twitter & Instragram @playagainnow
About the PBR (Professional Bull Riders)
The world's premier bull riding organization began as a dream of 20 bull riders 23 years ago and is now a global sports phenomenon. On its elite Built Ford Tough Series, the PBR features the Top 35 bull riders in the world and the top bulls in the business. The televised Built Ford Tough Series, the BlueDEF Tour, the Touring Pro Division and the PBR's international circuits in Australia, Brazil, Canada and Mexico have paid more than $150 million in earnings to its athletes. Twenty-eight men have earned more than $1 million, including two-time PBR World Champion J.B. Mauney who, with his 2015 PBR World Championship, became bull riding's first $6 million man and the richest athlete in Western sports history at $6.7 million in career earnings. In May 2015, PBR was acquired by WME | IMG, a global leader in entertainment, sports and fashion. For more information on the PBR, go to PBR.com, or follow on Facebook at Facebook.com/PBR, Twitter at Twitter.com/PBR, and YouTube at YouTube.com/PBR.