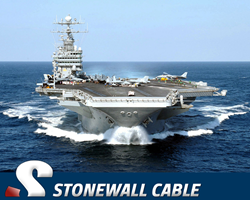 As far as design, I leave that up to Stonewall... our trusted SME on cable builds
Rumney, New Hampshire (PRWEB) October 18, 2016
When lives are on the line, precision, durability, and reliability can mean the difference between life and death. Stonewall is a premier manufacturer of communication cables sold to government and industry. Some of Stonewall Cable's top customers deal with life threatening situations daily.
In the operating room and trauma centers, the performance of life saving equipment is vital to saving the lives of patients. Some of the top hospitals in North America utilize and rely on data cables made by Stonewall. Hospitals such as Johns Hopkins Hospital, Mass General Hospital, the Mayo Clinic, UCSF Medical Center, Stanford Hospital, Duke University Hospital, Bringham & Women's Hospital, Northwestern Memorial Hospital, NYU Langone Medical Center, and University of Michigan Hospital, to name a few, utilize Stonewall's cables made specifically for critical and precision applications. Without properly performing equipment, doctors cannot fully take advantage of the medical advancements that might just save a life.
Stonewall's premium cables can also be found in top Children's hospital around the country including Children's Hospital Boston, Children's Hospital San Diego, Children's Hospital of Georgia, Cincinnati Children's Hospital, and Phoenix Children's Hospital. Stonewall is in talks with Children's Hospital at Dartmouth to offer cables for exoskeletons which will help negate the expenses to the families of children with spinal muscular atrophy.
Medical professionals have also contracted Stonewall to engineer and build customized cables for use in state of the art medical technology such as the da Vinci® Surgical System which is a precision surgical robot designed to be more precise and capable than even the world's best surgeons. The complex Surgical System, made by Intuitive Surgical, consists of advanced computers, robotic arms, specially developed software, and precision control consoles. Surgeons and hospital directors found that they were restricted to particular motions of the robotic arms and required specialty cables from Stonewall to allow more adequate movements.
In addition to the operating room, Stonewall also manufactures cables to help our soldiers stay safe on the battlefield. Communication is vital to gaining an advantage on the enemy in battle and bring our troops home safely. From the front lines to data centers, Stonewall provides a variety of data cables that can also be found on ships, submarines, tanks, control towers, drones, jets, planes, and so much more. The US Navy and their contractors utilize proprietary retro-fit adapters which allows information systems to be upgraded while maintaining existing cabling, saving months of labor and enormous costs. Recently, Stonewall Cable introduced a new top US government contractor to their client list. Stonewall now sells to 9 of the top 10 US government contractors.
Stonewall's commitment to quality ensures that our nation's defenses are equipped with the best quality communication, data, and encryption cables which will ensure performance during combat, on missions, and during training. Arming soldiers with the highest quality components is vital to the success of our military and allows our soldiers to come home safely. This is something that Stonewall takes dearly to heart. "We're forever in debt to those that put their lives on the line to defend our nation," said Anthony LaMonica, "and in return, we develop, design, and manufacture the highest quality cables which the military will put to the test in the most rugged and demanding environments. Beyond bringing soldiers home, we're proud to know that we're helping keep peace worldwide."
Closer to home, police professionals that protect our neighborhoods often use cables made by Stonewall. The FBI, US Marshals, State Police Agencies, and Local Police Departments order customized cables to use in communication devices which are used to ensure that agents and officers are armed with information promptly and reliably. Police use advanced equipment for communicating, updating and receiving records, locating suspects, dispatching, analyzing evidence, and so much more. Information, which can be life saving, can change instantly and the ability for police agencies to communicate and share data is vital to protecting our streets.
Beyond building life saving cables, Stonewall is also committed to providing computing power to help cure diseases such as AIDS, Cancer, and the Zika virus. The IBM World Community Grid distributes complex equations to computers that are networked within the grid and when volunteered computers are not being used, the CPU solves the equation and returns results to the grid where it is analyzed. Stonewall has been part of the World Community Grid since 2007 and remains in the top 3% of contributors worldwide. Without the World Community Grid, these calculations would take hundreds or thousands of years to complete. Together, organizations and individuals are teaming up to help cure life-threatening diseases.
Stonewall Cable also works with first responding contractors such as DTECH Labs which builds and provides deployable and tactical communications products for disasters such as hurricanes. For instance, in 2008, DTECH contacted Stonewall to manufacture specific cables that were needed to provide communications support for Hurricane Katrina recovery operations. It's critical for Stonewall to respond quickly and adhere to strict deadlines and guidelines to ensure that everything is done to recover from disasters. Cherokee County Electric Coop relied on Stonewall in 2015 to manufacture cables used to restore power to customers after a tornado and heavy storms ravaged the area. Stonewall has an impeccable track record for responding quickly and expediting critical orders.
###
Stonewall's unmatched quality record keeps customers coming back. To learn more about Stonewall's capabilities or to inquire about a quote for an upcoming project, please call Stonewall Cable customer service at 1-800-525-3303 or visit stonewallcable.com.
About Stonewall Cable, Inc. 
Stonewall Cable Inc. has been in the cable manufacturing business since 1985. At their facility in Rumney, New Hampshire, they manufacture all types of computer and network cables as well as harnesses for government, commercial, and industrial applications.
Stonewall Cable and the Stonewall Cable logo are registered trademarks or trademarks of Stonewall Cable, Inc. in the United States and certain other countries. All other trademarks mentioned in this document or website are the property of their respective owners.