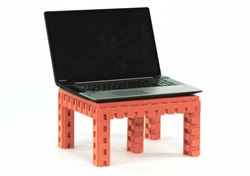 We describe Aran Blocks as what you would get if LEGO met IKEA, fell in love and had a baby
Sydney, Australia (PRWEB) October 17, 2016
Aran Blocks, a patent-pending building blocks system that can be used to create strong and usable weight-bearing structures such as small furniture pieces like laptop stands and bookshelves, has launched its crowdfunding campaign on Kickstarter.
"The product was actually born out of frustration while playing with my son Aran's construction toys," said creator and Aran Blocks CEO, Dev Anand Dorasamy, who named the product after his son. "I didn't like the fact that these blocks only fit vertically and that structures made from these blocks were not particularly strong or usable."
When he set out to design building blocks that would connect on all sides, Dorasamy said he "discovered something very exciting – that the side-locking capability and lateral connections could bear an incredible amount of weight."
For example, a small table of only five Aran Blocks across can bear the weight of an adult standing on it, as demonstrated in this video.
As a result, Aran Blocks can be used to create many useful weight-bearing structures including small furniture pieces like bedside tables, laptop stands, bookshelves, tablet holders and many other items, while also providing a creative design outlet for people of all ages.
"What started out as a toy became a full-fledged modular building system," Dorasamy said. "We describe Aran Blocks as what you would get if LEGO met IKEA, fell in love and had a baby."
Since the size and shape of the structures can be easily modified by either adding or removing blocks, Aran Blocks are infinitely customizable and perfect for creating stands or tables in the odd corners of a home or office. The blocks also have a hollow center, which allows users to run small cables, such as headphones, charging cables and USB connectors, through them.
The whole building system involves only two unique shapes – the Aran Block itself and a separate cover piece. The blocks form the backbone of the system, which can be fitted into its counterpart blocks on all six sides, while the cover piece gives the top of the block a flat surface and also serves as a reinforcement for any structures designed with the blocks.
Aran Blocks are available at a discount throughout the launch crowdfunding campaign. To find out more about the strength and versatility of Aran Blocks, or to purchase them for yourself or as a gift, visit the Aran Blocks Campaign Page: http://kck.st/2ebZ6Q4
About Aran Blocks
Born in Malaysia and an MBA Graduate from the Melbourne Business School, Aran Blocks CEO Dev Anand Dorasamy currently lives in Sydney, Australia – where he founded the company in early 2016. Dorasamy previously worked for the strategic investment arm of Malaysia, Khazanah Nasional, prior to forming Aran Blocks. For more information, visit http://www.aranblocks.com.