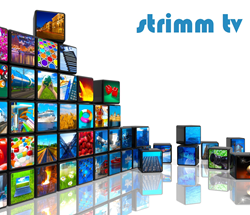 Strimm TV gives users unbridled access to the unique, 24/7 broadcasting TV content with a familiar, cable-quality TV guide and channels lineup
Chicago, IL (PRWEB) October 20, 2016
A Chicago-based startup is taking the social internet television sector by storm by offering a platform where people can offer their own curated TV channels for public consumption.
Thus far, Strimm TV (http://www.strimm.com) channel lineup offers more than 700 free TV channels with unique daily programming that have been created by everyday people. These one of a kind channels are made by people spanning 120 + countries and are available in various languages. The platform has been designed with creative and forward thinking people in mind, those who want to create and envision a new era of television.
At Strimm TV, users can enjoy programming in a variety of categories, including fitness, food, wellness, technology, sports, news, and travel. These channels can be watched from anywhere in the world and on any device. According to the company's spokesperson, Elina Berg, "Strimm TV gives users unbridled access to the unique, 24/7 broadcasting TV content with a familiar, cable-quality TV guide and channels lineup."
Strimm's platform has the capability of offering millions of channels, giving struggling content creators an avenue to publicize their works while delivering customized content directly to users via a continuous broadcast. According to Berg, it's a win-win situation for talented producers and audiences alike.
Strimm TV launched in October 2015, and one year later, the platform has officially become the largest provider of curated and scheduled around-the-clock broadcasting channels in the United States. It offers more 24/7 broadcasting channels than two of the U.S. largest cable and satellite providers combined, and it outweighs other internet television providers.
When people want to watch TV online, they are often left with options that fall short. For instance, they are given a small amount of channels with few selections for programming. At Strimm TV, viewers are given a virtually unlimited range of custom TV channels at no cost, and they can easily personalize their watching experience by choosing from the categories that interest them.
For people who are willing to create TV or watch TV online, Strimm serves up a powerful and easy-to-use way to watch and publish a personalized internet television.
Businesses and organizations are also given the capability of embedding their TV channels on their own websites, which offers businesses a powerful and dynamic new way to present video content to their audiences.
About Strimm TV
Strimm TV (http://www.strimm.com) is an online social television platform that offers a new era of customized Internet television, accessible from anywhere at any time on any device. It provides viewers with hundreds of free 24/7 broadcasting TV channels in a variety of categories, created by individuals and organizations from around the world. Follow us on Facebook, and join our community of over 75,000 followers