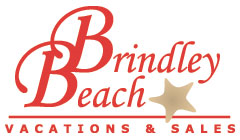 ...we're well equipped to take care of and rise above any kind of destruction that's thrown our way.
Corolla, NC (PRWEB) October 19, 2016
Brindley Beach Vacations & Sales, a leading vacation rental and real estate firm located in the Outer Banks of North Carolina, announced that it's open despite the cleanup work that continues after the destruction of Hurricane Matthew. As the sign says, "We are open till the letters on this sign are gone."
Gov. Pat McCrory declared a state of emergency for all 100 North Carolina counties before the storm hit, and the hurricane left a significant amount of wind and water damage in its wake.
"We're lucky that our offices were not harmed, but we did suffer damage to three vehicles during the home inspection process," said Doug Brindley, Owner of Brindley Beach Vacations & Sales. "Many of our vacation homes are dealing with water in the ground floor, siding and shingle damage, roof collapse, or ceiling water damage and water intrusion through windows and doors. Power in some areas is just now starting to be restored."
The recovery process is ongoing, and it's a massive undertaking. "The process to inspect and report will take weeks to complete," said Brindley. "And that's on top of damage caused be two large storms earlier in September. But as our loyal guests know, our Corolla office was destroyed by a fire last June, so we're well equipped to take care of and rise above any kind of destruction that's thrown our way."
And in spite of the hurricane's devastation, Brindley Beach was able to make their 2017 rental rates available for all vacation properties. Brindley Beach encourages all interested travelers to prepare in advance for their 2017 Outer Banks vacations. Many returning guests make their reservations many months ahead of time, and popular homes and summer weeks are always the first to go.
To book your vacation, please call Brindley Beach at 877-642-3224 or visit BrindleyBeach.com. Brindley Beach's website also features frequently updated specials a pet-friendly rental search, and more than a dozen luxury homes.
About Brindley Beach Vacations & Sales
"Service First…Fun Always!" - Brindley Beach Vacations & Sales is owned and operated by Doug and Joan Brindley. They have been prominent in the Corolla and Duck real estate rental and sales industry since 1984. Doug began in the business in 1984 in one room and today it's among the largest and most successful vacation/sales companies in the industry. Their primary and only focus is the delivery of exceptional service to all of their Outer Banks owners and guests on vacation. The definition of service is someone in front of you helping to solve your problems NOW.
Every guest and owner of Brindley Beach Vacations experiences the true meaning of "Service First…Fun Always!" Brindley Beach Vacations can be found on the web at: http://www.brindleybeach.com/, reached via phone at 877-642-3224, or via email at Rentals@BrindleyBeach.com.
This press release was formatted and submitted by Visual Data Systems (http://www.VisualDataSystems.com), the leader in online marketing for the vacation rental industry.