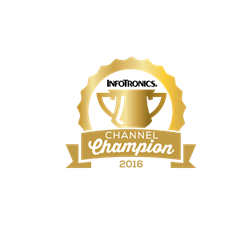 "We are a relatively small company with only 25 employees, and we work in multiple states with lower populations, yet we beat out companies that work in large metropolis areas." said Mindy Kroll, sales manager and co-owner of TMS.
Livonia, Michigan (PRWEB) October 19, 2016
Every year, InfoTronics honors the top sales performances of its partners. Time Management Systems has consistently produced results and has established a pattern of excellence achieving recognition every year in this decade.
The top five honorees in order of performance are:

Time Management Systems, Inc., Sioux Falls, South Dakota
Gorrie-Regan & Associates, Inc. Birmingham, Alabama
Associated Time & Parking Controls, Dallas, Texas
Advanced Time Management, Inc. Canton, Michigan
Midwest Time Recorder, Inc. Naperville, Illinois
About of InfoTronics Inc.:
InfoTronics, Inc., a Southeast Michigan company founded in 1978, makes its wealth of experience and knowledge available to the marketplace for the benefit of companies of all sizes by providing cost-effective, easily deployable workforce management systems. Product offerings include software solutions that offer advanced features for managing labor data, calculating pay rules, scheduling employees, budgeting labor, automating benefit accruals, and tracking attendance-based merit points. InfoTronics, Inc. is a forerunner in developing software that maintains the scalability, reliability, and security requirements of small, growing, and large organizations. By utilizing an extensive North American distribution network, InfoTronics, Inc. has been able to enhance the business practices of more than 20,000 organizations.