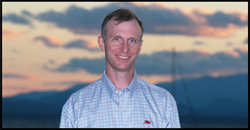 In part due to high and ever-present fees, the average investor loses 6 of every 7 dollars of market return. It's time for that to change.
Burlington, Vermont (PRWEB) October 19, 2016
Dan Cunningham today announces the opening of his Vermont financial advisor firm, One Day In July LLC, in Burlington. The firm helps individuals, non-profits, and businesses save and invest using low-cost index funds. Index funds are sweeping the nation, and they are one of the fastest growing trends in American investing and financial planning. By focusing on reducing fees for investors, including those of the financial advisor, Cunningham is bringing long-overdue changes to clients in Vermont and other states.
"Everything about One Day In July is designed to lower fees and increase returns for investors," says Cunningham. "Decades of data show that it is almost impossible for active managers to beat index funds, yet they keep trying, to the detriment of their clients. Currently investors are losing 6 of every 7 dollars of market return to high fees, poorly timed behavior, and other headwinds. This clearly needs to change if people want to retire well."
The firm is simple. Instead of trying to guess what stocks and bonds will perform well, or selling clients on unnecessary financial products, Cunningham focuses on what matters:

Understanding a client's long-term objectives.
Gauging their tolerance for risk.
Using extremely low-cost index funds across asset classes and around the world.
Rebalancing periodically
Lowering advisory fees
"The financial industry is probably the only industry in America that can charge high fees for doing worse than average. It makes no sense that clients who work hard every day are sacrificing 70% or more of their retirement savings to the slow, quiet grind of financial fees," notes Cunningham. "And to make matters worse, many advisors are paid 'on the back end' by the funds they are placing in client accounts. It really is time for all of this to end."
Independent research over the past several decades confirms that index funds outperform 83% of active managers. And that the expense ratio of funds is the most proven predictor of future fund returns. And that actively managed mutual funds, on average, cost seven times what their index fund peers charge.
A Vermont financial advisor with no conflicts of interest who uses extremely low-cost index funds and reduces his or her own fees is a valuable addition to the financial landscape. It's a sensible approach that works.
Cunningham continues, "In addition to using an investment approach that works well for investors over the long term, I intend to serve a broad scope of clients. Unlike much of the financial world, which only focuses on wealthy clients, I am also interested in helping people in the middle class decipher their financial future."
Dan Cunningham is a graduate of Princeton University and is a registered Investment Advisor Representative, holding a Series 65 securities license. For those looking for a financial advisor, he is accepting new clients in Vermont and the other 49 states