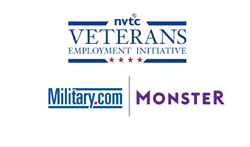 HERNDON, Va. (PRWEB) October 18, 2016
The Northern Virginia Technology Council (NVTC) announced today the finalists for the first-ever NVTC Veterans Employment Initiative (VEI) Veteran Service Award sponsored by monster.com and military.com. The VEI supports NVTC member companies in their efforts to recruit, hire, train and retain qualified Veteran employees and helps match Veterans and military spouses with jobs, internships and mentorships.
The new VEI Veteran Service Award honors an NVTC member company that has demonstrated a superlative level of engagement with the VEI and support for the Veteran and military community. The winner will be announced at NVTC's TechCelebration Banquet on October 24, 2016 at The Ritz-Carlton, Tysons Corner.
"The Veteran Service Award finalist companies have not only hired Veterans, but also actively participated in the programs and services of VEI and other Veteran-focused philanthropic volunteer programs," stated VEI Director Steve Jordon. "These companies are creating scalable Veteran hiring programs and have engaged their employees in supporting transitioning Veterans as well."
"Monster and Military.com are proud to help recognize these employers who are committed to Veteran recruitment, hiring and retention. Working with NVTC to showcase the best practices in this area will help inform other employers in their efforts to hire Veteran talent," said Greg Smith, president of Military.com and retired Navy admiral.
Congratulations to the following Veteran Service Award finalists:
Dominion
The MITRE Corporation
PRISM
The VEI is funded by the NVTC Foundation, a 501(c)(3) tax-exempt nonprofit. For more information about the VEI, visit http://www.nvtc.org/veterans or visit the Veteran online community hosted by career industry leader Monster and Military.com at http://www.novatechvets.org.
# # #
About Northern Virginia Technology Council
The Northern Virginia Technology Council (NVTC) is the membership and trade association for the technology community in Northern Virginia. As the largest technology council in the nation, NVTC serves about 1,000 companies from all sectors of the technology industry, as well as service providers, universities, foreign embassies, nonprofit organizations and governmental agencies. Through its member companies, NVTC represents about 300,000 employees in the region. NVTC is recognized as the nation's leader in providing its technology community with networking and educational events; specialized services and benefits; public policy advocacy; branding of its region as a major global technology center; initiatives in targeted business sectors and in the international, entrepreneurship, workforce and education arenas; the NVTC Foundation, a 501(c)(3) nonprofit charity that supports the NVTC Veterans Employment Initiative and other priorities within Virginia's technology community. Visit NVTC at http://www.nvtc.org.
About Military.com
Military.com is the nation's largest online military destination serving over ten million members, including active duty personnel, reservists, guard members, retirees, veterans, family members, defense workers, and those considering military careers. Military.com enables the 30 million Americans with military affinity to access information about their benefits, advance their careers, enjoy military discounts, and stay connected for life. Military.com develops efficient affinity marketing and communications programs for government agencies and companies serving this market. Military.com is a business unit of Monster Worldwide, Inc. More information is available at http://www.military.com.