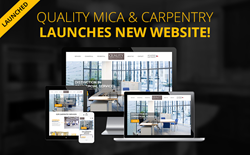 SmartSites has the best product for the price and what comes with it!- Steve Lien
Englewood Cliffs, New Jersey (PRWEB) October 18, 2016
Quality service is hard to come by these days. In the oversaturated world in which we live, attention to detail, customization, and exceptional results are all important factors that can make or break a business. Quality Mica & Carpentry knows this to be true, perhaps better than most. The company was established over 20 years ago, and has maintained their stellar reputation by providing only the best millwork, cabinetry, and carpentry that the Tri-State area has to offer.
The Quality Mica team boasts an impressive reputation, but for a while they did not have the digital presence to back it up. Their years of experience fell short when it came to showcasing the reputable work they performed. Their old web presence failed to convey the time-tested, trustworthy services that the community knew them for. Servicing both commercial and residential industries, Quality Mica & Carpentry needed a web presence that reflected all of their capabilities. From Custom Yacht Interiors to Banks & Financial Furnishings, Quality Mica does it all. No job too big or small, this versatile group sought out a web team that could properly convey their broad scope of strengths.
SmartSites, the full service digital marketing agency located in Englewood Cliffs, New Jersey, proved to be just the solution Quality Mica needed. In addition to transforming Mica's old, one-page digital business card into a fully fleshed-out website, SmartSites developed a new logo for the Mica team. With this came a new brand identity, and a soon-to-be launched ongoing digital marketing campaign that will further boost business. Gone were the days that Quality Mica & Carpentry's services went overlooked.
Of working with the SmartSites team, Quality Mica & Carpentry owner Steve Lien said, "SmartSites has the best product for the price and what comes with it! Anita and her team always stayed on top of our site and always answered my questions in a fast and timely manner. They have great ideas and are the best to work with."
With the launch of their brand new website, Quality Mica & Carpentry looks forward to outfitting more homes and businesses. Regardless of the location, Quality Mica & Carpentry practices a client-first approach with everything they do. Although they are located in Bergen County, New Jersey, Quality Mica services various areas throughout New Jersey, as well as in New York and Connecticut. To schedule your consultation with the professionals, visit qualitymica.com today!