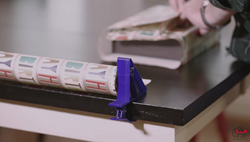 Gift giving is a joyous experience until it's time to wrap the packages, but not anymore. With Wrap Buddies, gifts can be wrapped effortlessly with professional-looking results in no time at all
Jeffersonton, VA (PRWEB) October 18, 2016
Wrap Buddies, a new innovative wrapping tool that makes gift wrapping easier and faster, has launched on Kickstarter.
Wrap Buddies was created by software executive Bret Wortman. He's been making Wrap Buddies for friends and family, and getting rave reviews from everyone, so he decided to launch a Crowdfunding Campaign to bring his wrapping solution to gift-givers around the world, just before the holiday season.
"Wrap Buddies is for the gift-giver, the crafter and anyone who likes to use innovative solutions at home," Wortman said. "Gift giving is a joyous experience until it's time to wrap a present, but not anymore. With Wrap Buddies, gifts can be wrapped effortlessly with professional-looking results in no time at all."
Wrap Buddies consists of two identical, inward-facing devices that grip onto the side of a table and hold the tube of wrapping paper at just the right tension. This allows the user to roll out the perfect amount of paper to wrap the gift in a fraction of the time it normally takes.
Wrap Buddies is easy to store as well, it collapses to the size of a fist and fits in any drawer for easy access.
Wrap Buddies also serves as a household helper and extra set of hands for many other household and craft uses, including the following tasks:

Dispensing aluminum foil
Using cling wrap for production-line style Christmas cookie packaging
Securing rolls of butcher paper when cooking meats on a smoker
Ready-to-go craft paper for the kids
Emergency toilet paper roll holder
"We all enjoy giving gifts, but for many of us gift wrapping is a dreaded chore and a lot of us just aren't good at it – especially when you're doing it alone," Wortman said. "With Wrap Buddies, the task is really simply and the results are great. Who wouldn't want that during the busy holiday season."
Wrap Buddies is available now with special early bird pricing on Kickstarter. To learn more and pre-order, please visit: https://www.kickstarter.com/projects/bretwortman/wrap-buddies-worlds-simplest-gift-wrap-assistant