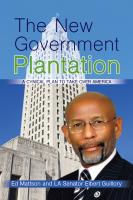 This entire cynical plot, 50 years after the Emancipation Proclamation, must be stopped with the power of the vote
Charlotte, NC (PRWEB) October 18, 2016
Ed Mattson and Louisiana State Senator Elbert Guillory's new book, The New Government Plantation - A Cynical Plan to Take Over America, ($25.99, paperback, 9781498445672; $9.99, e-book, 9781498445689) documents the rise of conservative political star, Senator Elbert Guillory, the first Black legislator in Louisiana since Reconstruction. This thought-provoking book tells his compelling life's story and exposes the government's plan to enslave all minorities to a New Government Plantation with Uncle Sam as the overseer, using government handouts as a bribe for their vote. The destruction of self-esteem putting "blacks in their place", along with providing ghetto housing, poor education, and a handful of food stamps and a cell phone, will ensure perpetual longevity in office for Democrats and complete the enslavement process.
Ed Mattson explains that as an outspoken African-American, Senator Guillory can and does say what others fear to say. He is pilloried by the white limousine liberals who always seem to know what's best for Blacks and shouted down by the supposed spokespersons for the African-American community, who do not want to see the racial inequities in America disappear for fear of losing their paycheck by exploiting racial hatred and bigotry. Mattson says that it is time for the country to recognize the divisiveness of class-envy, white privilege, and call out those who would destroy American exchange for a few pieces of silver.
"This entire cynical plot, 50 years after the Emancipation Proclamation, must be stopped with the power of the vote," states the author. "To allow it to continue will surely destroy the American Dream for all races, and condemn future generations to indentured servitude to pay for it all, or simply bankrupt the greatest nation God has ever allowed to be built."
This is Ed Mattson's fourth book. He explains that Senator Guillory's story is so fact-based and on target with the knowledge he gained in working in the Nixon Administration developing the Affirmation Action Program, that anyone who is listening could easily have documented his remarkable and divinely inspired rise to tell the story. No one is more qualified than the Senator to speak on behalf of the country to halt what has become a $22 trillion dollar waste of taxpayer money with only failure at every turn to show for it.
Xulon Press, a division of Salem Media Group, is the world's largest Christian self-publisher, with more than 15,000 titles published to date. Retailers may order The New Government Plantation - A Cynical Plan to Take Over America through Ingram Book Company and/or Spring Arbor Book Distributors. The book is available online through xulonpress.com/bookstore, amazon.com, and barnesandnoble.com.
Media Contact: Ed Mattson
Email: emattson0711(at)yahoo(dot)com
Website: http://theconservativeword.com/