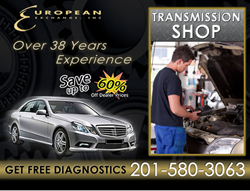 Hackensack, NJ (PRWEB) October 19, 2016
In the United States, manual transmissions are quickly becoming a thing of the past. Manual transmissions were the only type of transmission in the auto industry, until the automatic transmission option was offered by General Motors in their 1940 Oldsmobile model and quickly took off from there. Some sources even report that the number of cars bought in the United States with a manual transmission are well under five percent, down from around 35 percent in 1980.(1)
Most drivers are now left to pick between the variants of automatic transmission, each with its own advantages and disadvantages. The two main system types are Dual Clutch Transmission (DCT) and Continuously Variable Transmission (CVT).
While many cars offer CVT transmissions, Dual Clutch Transmissions are favored by high-end sport vehicle manufacturers like Ferrari, Porsche and many more. This system has two clutches, one for every even number gear and one for every odd number gear. This technique allows one clutch to prepare to shift gears while another is already shifting, making for efficient and powerful bursts of speed. Additionally, this system is completely computer-driven, so gearshifts are made in less than a second. To hone in on the most efficient breakpoints, some systems will automatically adjust the speed breakpoints that trigger gearshifts, adapting to the style of the car's driver.
As mentioned earlier, the other type of commonly found automatic transmission is the Continuously Variable Transmission, better known as CVTs. This system has no defined 'gears'; instead, the drive revolves around a chain and pivot system where the two pivots have variable width. This layout is comparable to the gears of a bicycle, except more variable. Assuming smooth acceleration, CVT is able to change its pivot widths to the optimal ratio for maximal gas mileage at any speed. This method is perfect for smoother drivers, but far less effective for those with a 'pedal-to-the-metal' mentality. Choose between the DCT transmission and CVT transmission for a faster, sportier drive, or a smoother drive with a little less instant power.
European Exchange Inc. has been providing expert transmission repair and transmission rebuild services in New Jersey for over 20 years. Their professional transmission technicians work in a 10,000 square foot facility and have experience in servicing a variety of transmission types including automatic transmissions, manual transmissions, classic transmissions, CVT / DCT transmissions, high performance transmissions, truck transmissions, and specialty vehicle transmissions. For more information, contact European Exchange at (201) 880-6633.