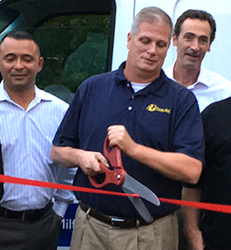 Wakefield, Massachusetts (PRWEB) October 18, 2016
The Wakefield Lynnfield Chamber of Commerce held a ribbon cutting ceremony on October 13 to celebrate the grand opening of the new Planet Aid Donation Center located in Wakefield, Massachusetts.
The Planet Aid Donation Center opened its doors on June 3, and this event was held to formally welcome the center to the community. Key attendees included staff from the Chamber of Commerce, Thomas Mullen of the Wakefield Town Counsel, and members of local businesses.
"We are very pleased to celebrate our new center in Wakefield," said Planet Aid Operations Manager Keith Gregory. "It's great for residents to now have a place to bring their recyclables."
The Wakefield Donation Center is located on 349 Water Street. Staff will be on site daily to accept the community's unwanted clothing, shoes, accessories, toys, books, small appliances and electronics, and other household items. Residents can request at-home pick up for bulk donations by calling 774-217-1787.
"The support from the Chamber of Commerce has been outstanding and we're thrilled to have had them as part of this special day," Gregory said.
Get more information about the Wakefield Donation Center--including hours, accepted items, and directions--by clicking here.
About Planet Aid
Planet Aid is a U.S. 501 (c)(3) nonprofit and is registered with USAID as a private voluntary organization. Accredited by the Better Business Bureau's Wise Giving Alliance, Planet Aid collects and recycles used clothing and shoes as part of its environmental mission. The net proceeds from its 21-state recycling operation help to support projects aimed at eliminating poverty. Since its inception in 1997, Planet Aid has provided more than $100 million to support projects on three continents. Planet Aid supports programs in education, teacher training, nutrition and agricultural and economic development.