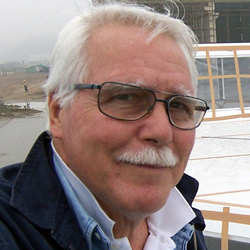 Reuben brings an incredible 35 years' executive experience in yacht design, construction and marketing.
Essex, CT (PRWEB) October 20, 2016
Essex Yacht Sales, an expanding yacht brokerage in Essex, CT, welcomes aboard noted yacht designer and builder, Reuben Trane. He will serve in a new business development position, as Senior Professional Adviser and Southeast Representative.
Mr. Trane brings exceptional knowledge of the yachting industry and market, both US and overseas. He has over 35 years' experience designing, building and marketing sail and power boats up to 65' trawlers.

1980: Opened Florida Bay Boat Co., designing and building sail boats from 14' to 24'
1988: Founded the Florida Bay Coaster Co., introducing steel-built trawlers, from 45' to 65'
1993: Co-founded Krogen Express Yachts with Jim and Kurt Krogen
1995 - 2004: Worked with Mirage Manufacturing to create the Great Harbor and N-37 trawlers
2005 - 2015: Founded Island Pilot,designing and building fast yachts up 57'. Won numerous awards with Diesel-Solar-Electric hybrid yacht, the Dse 12m
About Essex Yacht Sales, LLC
Essex Yacht Sales has more than 25 years' experience in distinctive Yachts, including Grand Banks and Eastbay and many other fine builders. Located at Brewer Dauntless Shipyard in the heart of Essex village, Essex Yacht Sales is ideally placed to serve the more than 23 million residents living within 50 miles of Long Island Sound.
Essex Yacht Sales is licensed and bonded to conduct yacht brokerage business in Florida. The company is noted for providing personalized, concierge-level services to discerning clients, both buying and selling.