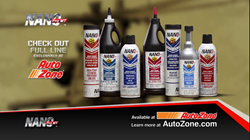 "Innovation needs to be demonstrated and the story needs to be told."
Portland, Ore. (PRWEB) October 19, 2016
Atomic Direct has released a TV advertising campaign for the all-new NanoProMT - a new line of high-performance lubricants, greases and coolants.
NanoProMT provides nanoparticle performance for a wide variety of automotive, marine and DIY applications. The products utilize nanoparticles to fill tiny imperfections in machine parts and metal surfaces, which dramatically reduces friction, heat, wear and corrosion. The campaign, featuring both a :30 and :60 television spot, leads the viewer to learn more online and purchase at any AutoZone store nationwide.
"NanoProMT's products are field tested in U.S. military helicopters and the product performance is unlike anything we've ever seen. But at the end of the day, the kind of innovation they've developed is hidden and won't sell itself. Innovation needs to be demonstrated and the story needs to be told," states Atomic Founder & CEO Doug Garnett. "We are pleased our unique approach to TV was chosen to demonstrate the benefits of nanoparticles, and ensure that NanoProMT stands out among the masses of products on the shelf."
About Atomic Direct
Based in Portland, Oregon, Atomic Direct is an industry-leading television advertising agency that specializes in creating demand and building brand for innovative products at mass and specialty retail. Atomic is a full service agency with strategy, creative, production, media, research, and campaign services. Clients include Lowe's Home Improvement, Mission AthleteCare, DuPont, Rubbermaid, Briggs & Stratton and Kreg Tool. Visit the company online at http://www.atomicdirect.com or read our blog at http://atomicdirect.com/blog
About NanoProMT
NanoProMT manufacturers a complete line of industrial, military and consumer nanoparticle based lubricants, greases, coolants and specialty products. All of the company's products are manufactured in the U.S. Learn more by visiting http://www.nanopromt.com.