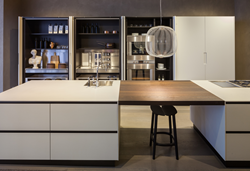 New York City, NY (PRWEB) October 18, 2016
Cesar New York, Italian kitchen design company Cesar's flagship New York location — has added new finishes to its expansive array of offerings. The new options include a magnetic lacquer and a gloss silk effect lacquer.
The magnetic lacquer, which Cesar describes as being inspired by stabilized rust, is an innovation of Cesar's research team. The finish, which can be applied to nearly all of Cesar's models, is magnetized the same way a refrigerator is. This magnetization is achieved by adding metallic components to the lacquer itself.
Visually, the metallic elements within it give the metallic lacquer a varied appearance, making no two applications identical.
The gloss silk effect lacquer is available in all models. It is available in a range of new color options including warm tones Quartz, Lagoon, and Sandstone, cool tones Agate and Dull Grey, and dark tones Titanium, and Nocturnal.
The new lacquer finishes may be experienced in person at Cesar New York City's Manhattan showroom at 50 West 23rd Street. To make an appointment, call Cesar New York City at 212.505.2000 or visit cesarnyc.com.
Cesar New York is Cesar Italy's North American flagship location. Cesar is a luxury European kitchen cabinet company that produces extremely high quality contemporary kitchen cabinet and kitchen storage solutions. Cesar New York's showroom is open to trade designers and to the public. It is located at 50 West 23rd Street, New York, NY 10010.