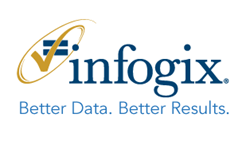 At Infogix, our customers are our number one priority and we welcome their feedback about how we can advance our solutions.
Naperville, IL (PRWEB) October 18, 2016
Infogix, a leader in helping companies provide end-to-end data analysis across the enterprise, is holding their annual Customer Leadership Council (CLC) meeting in Phoenix, October 19 – 21. In attendance will be representatives from Infogix's Fortune 1000 client list.
The CLC was created as a platform to allow Infogix customers to understand the company's product and services roadmap and discuss ways the solutions and enhancements will help customers excel in the marketplace. The CLC annual meeting will span three days and include industry breakout sessions, product and services updates, product management updates, speakers from the Infogix leadership team, networking opportunities and more.
"The CLC has been a critical part of the Infogix community for a long time," said Sumit Nijhawan, CEO and president of Infogix. "Throughout the years, members of our CLC have helped guide and influence the direction of our product enhancements, support and services teams, company messaging, and have been an indispensable part of our business model."
The CLC has continued to grow with more and more Fortune 1000 companies joining. Not only does the CLC allow Infogix customers to provide feedback to enhance Infogix solutions, it also allows them to compare the ways they use Infogix solutions. These types of conversations usually identify new ways that customers could be using their Infogix solutions or new outcomes that can be provided, helping to increase productivity.
"At Infogix, our customers are our number one priority and we welcome their feedback about how we can advance our solutions," said Nijhawan. "Our CLC annual meeting makes it easier for our customers to expand their professional network, and improve overall business performance by using the Infogix solutions platform."
To learn more about Infogix visit http://www.infogix.com.
About Infogix, Inc.
Infogix helps solve business challenges by analyzing data as it moves through complex business environments to improve the customer experience, corporate profitability and operational efficiency. The Infogix Enterprise Data Analysis Platform improves data quality, ensures effective transaction monitoring, provides balancing and reconciliation, identifies and predicts fraud and customer behavior. Infogix provides best-in-class solutions that seamlessly integrate into operations and allow clients to manage highly complex, data intensive business environments. By analyzing, processing and monitoring 100 percent of data in real-time or in batch, Infogix is able to provide proactive and actionable intelligence to manage operational workflows and steps. To learn more visit http://www.infogix.com or @Infogix.