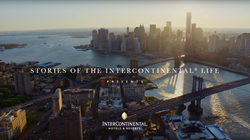 Dan Khabie, Mirum Global, North America CEO: "At Mirum, we connect brands and customers through meaningful content, touch points and moments. InterContinental's rich history provided the perfect content to make those connections..."
NEW YORK, NY (PRWEB) October 18, 2016
InterContinental Hotels & Resorts, part of InterContinental Hotels Group (IHG®), along with digital agency Mirum, has launched the first in a series of a multi-sensory journeys across InterContinental Hotels & Resorts properties around the world, to discover stories that will incite curiosity in audiences, broaden their minds, and take their imaginations to unexpected places. Each journey uses different mediums to tell stories that enable travelers to experience luxury travel as it should be, and uses podcasts, video content and animated illustrations to immerse audiences in those experiences.
The platform launches with Fascination – the first of the multi-sensory journeys in the series -- and uncovers hidden stories of underground cities, the beauty of using all of our senses, and what drives us to be fascinated. Throughout October, InterContinental will launch additional content covering the topics of Worldliness and Empathy. All journey episodes can be found at life.intercontinental.com.
A series of experts were commissioned to explore the three topics from unique angles. Episodes contain a unique mix of 15 minute podcasts, video storylines, and animated illustrations to immerse the audience into exploring and learning new things.
EPISODE 1 (Oct. 11): Fascination. InterContinental New York Barclay, New York, USA The more interested we are in the world, the more interesting we become. Discover stories—including one about a secret underground city—that will reveal sides of our world that you'd never expect.
EPISODE 2: (Oct. 17) Worldliness. InterContinental Beijing Sanlitun, Beijing, China Worldliness is the highest form of sophistication. It means feeling at home no matter where you are in the world. In these stories, we discover a global outlook everywhere we go.
EPISODE 3: (Oct. 31) Empathy. InterContinental London Park Lane, London, UK
The more we learn about other people, the more we enrich our own lives. These stories demonstrate how connecting with other people and cultures can deepen our connection to the world.
Jason Moskal, Vice President, Lifestyle Brands, The Americas, IHG said: "Our goal for this campaign is to reignite our guests' passion for travel and fascination for discovering new places. These stories are meant to evoke curiosity, broaden the mind, and inspire international travel."
The content lead approach taps into travelers' aspirations to experience the world and create their own stories, and aims to provoke the worldliness we experience when we travel. It is part of a series of activations globally for InterContinental to focus the marketing strategy on driving consideration and engagement by connecting the brand to what is relevant in culture. The multiple format content will continue to be developed into 2017 to bring the stories to life in the best medium for that subject.
Mirum worked closely with the production company m ss ng p eces to create the first episode. The Fascination video is directed by awarded director Tucker Walsh, and the podcasts star and are edited by Bianca Giaever, a regular contributor to NPR programming. The illustrations are by Greg Betza, with animations from Smith Design.
Dan Khabie, CEO, Mirum Global and North America said: "As experts in experience design, we connect brands and their customers through meaningful content, touchpoints and moments. InterContinental Hotels & Resorts rich history and stories provided the perfect content to make those connections and give our audience a sophisticated, immersive experience."
About Mirum
Mirum is a global digital agency that creates experiences that people want and businesses need. Named a Visionary in the 2016 Gartner Magic Quadrant, Mirum helps guide brands in business transformation, experience design, and commerce activation. The agency operates in 20 countries, with more than 46 offices and 2,200 professionals. Mirum is part of the J. Walter Thompson Company and WPP Network. For more information, visit mirumagency.com.
About InterContinental® Hotels & Resorts
InterContinental Hotels & Resorts has 183 hotels located in more than 60 countries with local insight that comes from 70 years of experience. As a brand, we believe that superior, understated service and outstanding facilities are important, but what makes us truly different is the genuine interest we show in our guests. Our desire is to help guests make the most of their time. We connect our well-traveled guests to what's special about a destination, by sharing our knowledge, so they enjoy authentic experiences that will enrich their lives and broaden their outlook. For more information, visit http://www.intercontinental.com, https://twitter.com/InterConHotels or http://www.facebook.com/intercontinental.
Notes to Editors:
IHG® (InterContinental Hotels Group) [LON:IHG, NYSE:IHG (ADRs)] is a global organisation with a broad portfolio of hotel brands, including InterContinental® Hotels & Resorts, Kimpton® Hotels & Restaurants, HUALUXE® Hotels and Resorts, Crowne Plaza® Hotels & Resorts, Hotel Indigo®, EVEN® Hotels, Holiday Inn® Hotels & Resorts, Holiday Inn Express®, Staybridge Suites® and Candlewood Suites®.  
IHG franchises, leases, manages or owns more than 5,000 hotels and nearly 750,000 guest rooms in almost 100 countries, with more than 1,400 hotels in its development pipeline. IHG also manages IHG® Rewards Club, the world's first and largest hotel loyalty programme, with more than 96 million members worldwide. 
InterContinental Hotels Group PLC is the Group's holding company and is incorporated in Great Britain and registered in England and Wales. More than 350,000 people work across IHG's hotels and corporate offices globally.
Visit http://www.ihg.com for hotel information and reservations and http://www.ihgrewardsclub.com for more on IHG Rewards Club. For our latest news, visit: http://www.ihg.com/media and follow us on social media at: http://www.twitter.com/ihg, http://www.facebook.com/ihg and http://www.youtube.com/ihgplc.