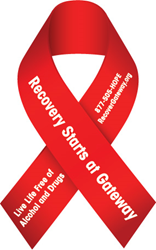 Chicago, IL (PRWEB) October 18, 2016
Sunday, October 23 marks the beginning of Red Ribbon Week . Red Ribbon Week commemorates the ultimate sacrifice made by DEA Special Agent Enrique "Kiki" Camarena, who died at the hands of drug traffickers while fighting the battle against illegal drugs to keep our country and children safe. Within weeks of his death in 1985, friends of Camarena launched the effort which has evolved into Red Ribbon Week. In his memory, supporters wear red ribbons and participate in community anti-drug events while pledging to live drug-free lives.
In honor of Red Ribbon Week, Gateway Alcohol & Drug Treatment Centers aim to increase awareness of addiction as a disease and help reduce the stigma surrounding drug and alcohol addiction. The stigma can be harmful to those who are struggling with substance use, making them feel ashamed and alone, which can get in the way of seeking help. Therefore, it is important to understand that addiction is not a choice that is made and cannot be stopped by the simple desire to quit. Research has shown that addiction is a disease and it affects the brain in staggering ways, making the cravings and the reliance on drugs or alcohol involuntary.
Most drugs target the reward center of the brain. When someone uses a drug, dopamine is released and floods their brain. Dopamine is a neurotransmitter that signals pleasure and reward. When an action causes dopamine levels to rise, the person is motivated to repeat that action. In this case, when the use of a drug causes a person to feel pleasure, they are motivated to use the drug again to replicate the feeling. Compulsive cravings start occurring, and the person becomes addicted. Over the long term, the flood of dopamine from the use of drugs or alcohol causes the brain to slow the natural production of dopamine and/or reduce its response to the dopamine. This can further the addiction, as the person now needs the drug to feel pleasure and happiness.
This Red Ribbon Week, as well as wearing red to show your support for the cause, you can take steps to learn more about addiction as a disease and help educate others to reduce the stigma. If you or someone you know is struggling with substance abuse, remember that it is not as simple as just making the decision to quit. As with other diseases, professional help is often needed to recover. For more information about the effects of drug abuse and treatment options, visit RecoverGateway.org.
About Gateway Alcohol & Drug Treatment
Since 1968 our goal has been straightforward: To help clients get their life back on track and achieve a life of sobriety, free from drug use and symptoms of mental illness, that is productive, socially responsible, and healthy. As the largest, non-profit treatment provider in the country, we currently operate drug and alcohol treatment programs in more than 43 locations for men, women, adolescents, special needs, and clients diagnosed with co-occurring mental health disorders.
Gateway's Community Division has treatment centers located throughout Illinois, including Carbondale, Chicago, Lake County, Fox Valley, Springfield, and the St. Louis Metro East area. These centers offer residential and outpatient treatment services for adults, teens, and adolescents accessed through insurance, state funding, and self-pay.
Gateway's professional clinicians help thousands of individuals successfully complete treatment by developing a personalized plan that treats the underlying causes of substance abuse—not just addiction to drugs or alcohol.
Learn more about insurance coverage, treatment options, or Gateway's confidential consultation at RecoverGateway.org or call 877-505-HOPE (4673).
Reporters and Editors, for more information, please call Leslie Colman, Marketing Director, at (630) 776-5725.