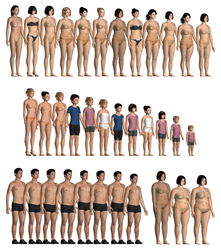 (PRWEB) October 18, 2016
Tukatech, Inc. has launched the Enterprise Edition of its TUKA3D system for virtual product development. This edition will include the same high-functioning 3D development capabilities at a more attainable price.
TUKA3D EE (Enterprise Edition) will integrate modules of TUKA3D for virtual product development, TUKAcloud for digital collaboration, and TUKAdesign EE (Enterprise Edition), used to prepare the 2D pattern for 3D development, as well as to adjust the pattern if needed. As with any TUKA system, unlimited training, implementation, and consulting are also included for the first year.
The TUKA3D system package traditionally has included a module of TUKAdesign PE (Professional Edition), TUKA3D, TUKAcloud, custom virtual models and animations, and unlimited training, etc. This package is now considered TUKA3D PE (Professional Edition).
TUKA3D is built on Autodesk's 3D Studio Max program, one of the largest 3D animation systems in the world. This platform allows TUKA3D users to use real-time motion simulation, and to create high-quality output for presentations and analysis, all within the same software. These functions are incorporated with both editions of TUKA3D.
Both editions also include model selection from Tukatech's diverse database of 3D virtual fit models. Hundreds of models represent dozens of brands and bodies that range from tiny infants to plus size adults. These models are animated to walk, run, sit, reach, pose, climb, or any other motion that would be performed during a live sample fitting. Brands for which Tukatech has developed virtual models include Adrianna Papell, Lilly Pulitzer, Levi's, Lucky, and more.
"Many brands in the UK and USA allowed us to measure, photograph and even scan their fit models so Tukatech could make the replica models. We use 3D virtual sample development for brands like Avirate, Maggy London, Polo Ralph Lauren, and Marks & Spencer," comments Arshad Sattar, Managing Director of Timex/Avirate in Sri Lanka
"We know there are companies who want to adopt virtual sample-making programs like TUKA3D that just don't have the capital. I've always believed that companies of all sizes should have the same access to advanced technology. We've seen the industry in California transformed by the affordability and availability of TUKAcad. I can only imagine what will happen to the apparel industry in California and globally with more attainable 3D product development and collaboration technology. We have dozens of vendors, brands, and retailers worldwide reporting amazing results with the implementation of TUKA3D in their product development process. 'Going virtual' has allowed one vendor to reduce product development time from 90 days to only 7 days. Another has increased their first-sample acceptance rate from about 93% to 99.8%," comments Ram Sareen, Founder and CEO of Tukatech, Inc.
Read the full story here or contact our team for more information tukateam(at)tukatech(dot)com.