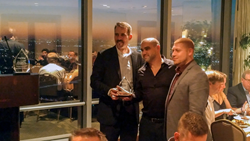 I know our families are as excited as we are about our conversion – time we used to spend planning, ensuring routes were being covered, and finding paperwork is now spent at home with family.
Dallas, Texas (PRWEB) October 18, 2016
At Point of Rental's International Conference awards banquet held on Tuesday, Oct. 11, three rental companies earned Innovation Awards for their implementation and use of Point of Rental software. The award winners were:

Winner (Rental Expert): Elite Events & Rentals (Oldsmar, Fla.)
Runner-Up (Rental Expert): Pedersen's Event Rentals (Seattle, Wash.)
Winner (Rental Essentials): Epic Event Rental (Eden Prairie, Minn.)
The International Innovation Awards honor achievements made by businesses using Point of Rental Software to get an advantage in their markets.
"We're really proud of our winners this year," said Point of Rental CEO Wayne Harris. "It's great to be able to see how our software is helping companies and hear those success stories. And after introducing Rental Elite earlier this year, we're looking forward to hearing what those companies are implementing in 2017."
Elite Events & Rentals won the Expert category for their use of Dispatch Center. As they converted from paper-and-clipboard delivery organization to Dispatch Center, they were able to eliminate missed deliveries and optimize truck routes, saving both time and money. They also enhanced customer satisfaction with advance delivery notifications and by providing accurate information through real-time insight when customers called asking what time their items would arrive.
Epic Event Rental won the Essentials category with their Online Store, using Essentials' web services to tie their inventory management to an online storefront. This feature helped the company provide a new level of customer service, as customers were able to use the web portal to reserve equipment online and get confirmation that items were available in real time, helping boost Epic's earnings 30% over 2015.
The International Innovation Awards take place each year at Point of Rental's International Conference. To discover more about Point of Rental products and how they can benefit your business, visit http://www.pointofrental.com.
About Point-of-Rental® Software, Inc.
Listed by Inc. 5000 as one of America's fastest growing private companies,
Point of Rental Software provides award-winning rental and inventory management solutions to thousands of companies worldwide. Founded in 1983, the company offers smart, scalable software designed for rental companies of all sizes and industries. Point of Rental Elite delivers a customized ERP software for world-class rental corporations. Point of Rental Expert is a full-featured rental management software that optimizes complex operations for advanced rental businesses. And, Point of Rental Essentials is a cloud-based rental and inventory software that streamlines business for straightforward rental operations. To learn which product is right for your business, visit point-of-rental.com or call 1-800-944-RENT (7368).
###