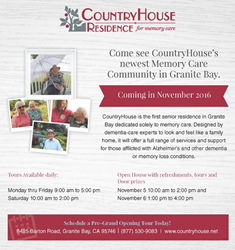 Drop-in Tours are now available, weekdays from 9 a.m. – 5 p.m. and from 10 a.m. – 2 p.m. on Saturdays. No appointment is necessary.
Granite Bay, Calif. (PRWEB) October 18, 2016
CountryHouse is preparing for the grand opening of a new memory care and assisted living community in Granite Bay, California. The first residents will be able to start moving in before the end of October, and Open House events have been scheduled for November 5 and 6. Lots of activity is happening in preparation for this big weekend.
Drop-in Tours are now available, weekdays from 9 a.m. – 5 p.m. and from 10 a.m. – 2 p.m. on Saturdays. No appointment is necessary. Those who are seeking compassionate dementia care for their aging family members are encouraged to call or visit CountryHouse Granite Bay today, to learn more about how to add loved one's name to the waiting list.
Director Mindy Klick brings excellent experience in dementia care and assisted living. Rhonda D'Angelo, Licensed Vocational Nurse, will oversee the wellness services and work closely with CountryHouse families. She and Klick have both been busy, hand-selecting and training the program coordinator, caregivers and the rest of the team.
Additionally, CountryHouse has engaged the services of Laura Wayman, a nationally-recognized radio show host and speaker whose specialty is dementia care. Wayman is assisting with staff training and development, and creating community education programs that will be open to the public. Granite Bay natives can also anticipate caregiver support groups — led by Klick — to be held after the new community opens.
In addition to the public Open House events on November 5 and 6, area professionals will receive invitations to special events on November 2 and 3. The public Open House will include tours, prizes and refreshments.
Anyone unable to attend any of the Open House events is welcome to arrange their own, private tour. Staff members are on-site Monday through Friday from 9 a.m. to 5 p.m., and on Saturday from 10 a.m. to 2 p.m. for Drop-in Tours, and are happy to make appointments at any other times, including evenings and Sundays.
Those who wish to learn more about CountryHouse's unique memory care programs, Open Houses and tours, or about the reserving rooms for residency are encouraged to visit http://www.countryhouse.net or to call (916) 899-6565.
ABOUT:
CountryHouse and its parent company, Agemark, provide assisted living and memory care to seniors in communities across the country; its Granite Bay location will be the city's first senior residence devoted exclusively to memory care. Each CountryHouse is designed by memory care experts to look and feel like a family home, and the wide range of highly-personalized services include Agemark's signature LifeCycles Wellness Program, which promotes personal, social, intellectual, and physical well-being. More information is available at http://www.countryhouse.net, or http://www.agemark.com.