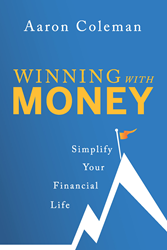 Your money management system is truly the difference between winning and losing when it comes to your money.
(PRWEB) October 18, 2016
Author Aaron Coleman shows the reader how to use a plain-and-simple money-saving strategy to obtain financial freedom.
Coleman utilizes his own experiences as a sales and marketing professional in "Winning with Money: How to Simplify Your Financial Life," out on October 18.
Coleman has a background in finance, technology and dining services. But, readers won't catch him using technological jargon or hard-to-follow dialogue. Fun graphics, worksheets and a short-and-sweet approach to this typically dry subject matter will engage anyone who's trying to not live paycheck-to-paycheck . The genius is in simplicity. Readers can learn how to simplify, take control of their money and take control of their life.
Reviewer Kai Yaniz from Readerviews.com writes, "This book is for the general reader starting out in financial management to the retiree." Kai also notes, "... it is a good start for the author and it is a basic, quick book on how to simplify budgeting for those that are new to financial management."
Whether the readers are 18 or 98, the principles outlined in "Winning with Money" will set them on a course toward freedom, flexibility and control. This paperback title is available at all major retailers starting October 18. Find more information at http://www.ElevatePub.com.