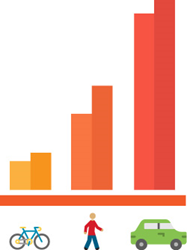 The demand for higher levels of safety on the road has never been greater.
Lodi, CA (PRWEB) October 18, 2016
2016 has been a landmark year for City Rise, a traffic control company that handles road safety throughout California. Reports for Quarter 3 indicate an exponential growth since the beginning of the year. The dramatic success that City Rise enjoys is a reflection of their reputation as the most reliable safety service in California, yet it also speaks to state of traffic control across the country.
The demand for higher levels of safety on the road has never been greater.
According to Statista, there are over 24 million licensed drivers in California alone. This number dwarfs all other states in the United States by a significant margin, the closest being Texas at over 15 million drivers. However the sunshine state is not exempt from the same woes that plague roads across the world.
The Voice of America had some sobering news to share: Globally, road crashes kill more than 1.25 million people and injure up to 50 million people annually. In April, the U.N. General Assembly backed the plan to create a Road Safety Trust Fund in an effort to reduce these rampant traffic deaths.
Closer to home, the National Highway Traffic Safety Administration stated that traffic deaths jumped 10.4% in the first six months of 2016 to "crisis" levels. This is indicative of a problem that has been slowly escalating for years. In 2012, Atssa pointed out that there was an estimated 34,080 people who died in motor vehicle traffic crashes in the U.S. that year, up about 5.3% from the previous year.
The dangers are not limited to motorists. According to fairwarning.org, death fatalities jumped nationally last year among bicyclists, rising 12.2% to 818. Pedestrian deaths climbed 9.5% to 5,376. Both totals were the highest in two decades.
In addition to traffic-related fatalities, there are other looming issues. Market Reports Center points out that "many roads, bridges, and highways need repair in the US. It is estimated that more than $3.3 trillion will be required to repair and replace old infrastructure in the country. With the aging highway infrastructure, many transportation organizations are focusing on improving and rebuilding existing roadways."
Amidst these concerns, City Rise has thrived by training and attracting the best road safety, traffic control, and flagging experts in California. Coupled with a safety first training program that promotes pride and purpose, City Rise has transformed challenge into opportunity by producing a workforce with a winning track record. All traffic control persons and flaggers are Atssa certified and have the expertise to safely divert traffic around work areas per MUTCD and Caltrans standards.
The company has tackled skyrocketing traffic control costs with equal shrewdness. Road safety is becoming subject to mandatory regulations in every city and county in California. As a result, what was once a straightforward process is now overcome with documentation, reports, permits, devices, crew parameters, and all the administrative fees that come with them.
City Rise has leveraged the bureaucratic complexities by developing the most comprehensive planning methods of any road safety company in California. All Traffic Control Plans (TCP's), traffic permits, and road closures are professionally drafted by qualified engineers. Clients are provided a full service experience. Meanwhile, city or county governing agencies are assured that citizens and construction crews will benefit from safety optimized plans for the construction zone.
With facilities throughout the state, City Rise prides itself on rapid turnaround and a fleet of safety vehicles and associated equipment. The equipment includes well maintained traffic cones, crash cushions, traffic drums, delineators, channelizers, flashing arrow boards, traffic control trucks, attenuator trucks, trailer-mounted message boards (PCMS), and more.
City Rise traces its roots to the Bay Area earthquake of 1989, where it was part of the safety response team. As a pioneer of the traffic control industry, City Rise has always pushed to innovate and improve the traffic control systems that keep people safe. This philosophy continues into the 21st century in areas that include web and mobile solutions.
The recent release of a free app for both iOS and Android assists workers throughout the world on how to properly set up lane closures and traffic control devices. Clients may also request City Rise services directly from the app.
As California roads become more congested and road work increases, City Rise continues to pave the way for effective solutions that keep traffic flowing, construction productive, and people safe.