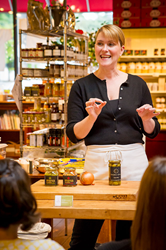 "I firmly believe that, above all else, cooking should be fun. And what better way to have fun than to combine two great forms of entertainment – movies and food – and enjoy it with others!" - Eliza Ward (Owner, ChefShop.com)
Seattle, WA (PRWEB) October 27, 2016
Celebrate some of the most loved food movies of all time. ChefShop.com starts the 2017 New Year with four cooking classes based on four culinary cinema classics, all fondly remembered: Julie & Julia, Big Night, My Big Fat Greek Wedding, and 100-Foot Journey.
Every Wednesday and Thursday evening for the last 5 years ChefShop.com has not only invited customers into their retail store to learn how to cook, but educated them about the importance of selecting the right ingredients, why quality is so important to good cooking, and how to find and select ingredients that pack a flavorful and healthy punch. Now, ChefShop.com is expanded beyond the original ethnic and seasonal cooking themes by offering a trip down cinematic memory lane with four fabulous Movie Night Cooking Class offerings. "Each will be a culinary evening to remember," says Eliza Ward, Owner of ChefShop.com. "How can it not be when first you learn how to make, and then you get to eat, Timpano just like Stanley Tucci in Big Night? Or Beef Bourguignon just like Meryl Streep or Amy Adams in Julie & Julia?"
All of ChefShop.com's in-store cooking classes are held at the Seattle retail store (1425 Elliott Ave West, Seattle, WA, 98119 – between Magnolia and Queen Anne). Doors open on cooking class nights at 5:30 PM for shopping and sipping, and classes start at 6:30 PM. All classes include appetizers and wine before class and, of course, many food-related stories and the opportunity to socialize with other local and visiting foodies and home cooks. Classes are demo–style and appropriate for all skill levels – from cooking novices to advanced home chefs. Recipe packets are included with the class so that participants can easily recreate the recipes at home. The fee for the evening is $79 and includes a light meal at the end of the evening and a special 10% discount on all store purchases. Viewing of movie not included, and seeing the movie before class not a requirement, but highly recommended – because all of the selected movies are well worth viewing – plus it's a fun part of the class and the conversation as the chef reminisces over favorite scenes while demonstrating how to cook the featured dishes.
Online registration for all of ChefShop.com Movie Night Cooking Classes, as well as other classes, is available right now on the ChefShop.com website (Click here to see ChefShop.com Cooking Classes). Space is limited and reservations must be made in advance. Limited parking available in attached lot just south of retail store, with additional overflow parking available three lots north of ChefShop.com, in the gravel parking lot next to Champion Costume Supply (Overflow parking lot accessible while traveling south on Elliott Ave West. Please do not cut across traffic to get into the lot.)
Want to give a cooking class to a loved one this holiday, but don't yet know which class date works best? Easy! Purchase a Cooking Class Certificate directly from ChefShop.com by calling 206.286.9988 or stopping by their retail store. Cooking Class Certificates are redeemable for any available class offered throughout the calendar year. Classes offered every week from early January through October, 2017.
About ChefShop.com(r)
ChefShop.com is an online and brick-and-mortar retailer for premium foods and ingredients, grown and made by family producers, all individually selected for quality, adherence to tradition, purity, provenance, and most importantly, flavor. It's real, mouth-watering food born from passion and commitment.
ChefShop.com: eat simply! live well!
###