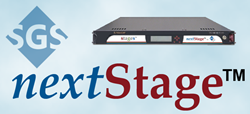 nextStage™ permits a local monitoring group to operate autonomously and gain the advantages available from a full service wholesale central station utilizing stages™.
Irvine, CA (PRWEB) October 19, 2016
Secure Global Solutions (SGS) is already known for its best-in-class alarm monitoring platform, stages™. Now it is honored to receive recognition for innovation at providing low-cost, all-in-one monitoring solutions. The SGS nextStage™ system permits a local monitoring group to operate autonomously and gain the advantages available from a full service wholesale central station using stages™. Only nextStage™ supports a local database and a fully integrated back-up to the cloud. This solution maximizes versatility and provides powerful advantages, including complete data and dispatch backup, alternate signal process routing, and integrated features for advanced dispatch and communication provided from the cloud. There is also the option to use a wholesale central station staff for emergencies such as storms or to supplement dispatching when operators require additional support.
Justin Bailey, COO and Executive VP of AvantGuard Monitoring Centers, appreciates the ability to leverage the cloud along with stages™ platform in new ways. "We now have a creative solution providing a local presence and local systems with complete management and processing provided from any AvantGuard station. Customers want this kind of flexibility and it offers them a unique benefit and us a unique advantage."
nextStage™ uniquely delivers the stages™ Platform as a Service (PaaS) to assure lowest cost solutions for communications including IVR, SMS, email, and mobile. nextStage™ introduces a new symbiotic relationship between larger, wholesale central stations and central station/dealers. Users learn from market leaders and get the ongoing support needed to assure quality service delivery.
Morgan Hertel, VP of Operations at Rapid Response Monitoring, says, "We have used nextStage™ in a number of installations where if for any reason the local monitoring group needed to be able to monitor accounts directly and autonomously. Since the nextStage™ appliances have their own database and signal processing, it allows the remote monitoring group the ability to take the reins at any time. This provides not only the flexibility that we needed but more importantly the security of knowing that at any time there is a fallback solution that is not only elegant in how it functions but is bulletproof in the way it is deployed and managed."
nextStage™ positions central stations to offer their customers the tools to lower the cost of operations. At the same time, central stations benefit from growth in recurring service fees. The growth in recurring revenue from monitoring and other services will add permanent value to the business.
About Secure Global Solutions, LLC (SGS)
SGS, founded in 2006, is a technology leader in integrated monitoring solutions. SGS operates with two divisions – central station and cyber-security services. Leading alarm industry customers include some of the largest providers in Europe and the United States. SGS staff of real-time communications experts integrates telephony, SMS, email, chat – with diverse signal methods used in both alarm and information technology (IT) monitoring.