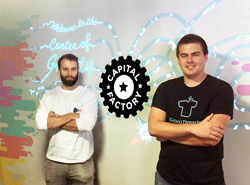 "We could've reached all these folks going campus-by-campus, but that really makes a nationwide expansion effort a slow crawl. With this audience available to us, that crawl can become a sprint." - GroupThreads CEO Zachary Cook
Austin, TX (PRWEB) October 19, 2016
On October 14th, collegiate apparel company GroupThreads acquired oneGreek, the largest social network exclusively for collegiate Fraternity and Sorority members. This acquisition was made to help accelerate the growth of their business past the numerous competitors in the space. The Greek-licensed apparel business is worth over $250M annually.
In the just the past 24 months GroupThreads, formerly Texas Custom Apparel, has grown from a business of only $200,000 to over $1,000,000 in annual revenue. The company is currently processing a majority of Greek apparel orders at multiple Texas campuses. Their software-based solution to custom apparel ordering has been the main driver of that growth. "At GroupThreads we're committed to building software that not only meets, but exceeds the expectations set by eCommerce providers like Amazon, so Fraternity and Sorority chapters spend less time managing apparel orders and more time running their organization" commented Founder and CEO of GroupThreads, Zach Cook.
The founders of both companies met after being accepted into Capital Factory's accelerator program for tech startups in Austin, Texas. At the time of its acceptance, oneGreek had captured over 50% of the collegiate Greek market on its mobile application, representing roughly 6,000 Fraternities and Sororities at over 450 campuses nationwide. "We were in the process of monetizing our network when I met Zach. It was clear from the beginning that there was synergy between our businesses and our goal to disrupt the Greek space. GroupThreads had established a winning business model with a truly differentiated product. Growing their business through the network we'd built couldn't be a more natural fit," commented coFounder and CEO of oneGreek, Sam Garst.
The oneGreek mobile app will remain on the market continuing to offer new ways for Greeks to connect. Zach commented, "I'm extremely excited about the opportunity to further modernize the Fraternity and Sorority system by bringing some exciting updates to the oneGreek social media app." Users can expect to see new and exciting features built to connect Greeks in ways that larger social networks like Facebook, Snapchat, and Instagram simply can't offer.