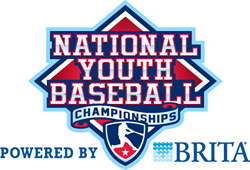 Steel Sports is honored to carry the National Youth Baseball Championships into its 10th year.
HERMOSA BEACH, Calif. (PRWEB) October 18, 2016
The National Youth Baseball Championships powered by Brita will celebrate its 10th anniversary in 2017 as travel baseball teams from around the country will meet on July 24-30 at Baseball Heaven in Yaphank, N.Y.
Steel Sports is teaming up with top tournament organizations and venues on 18 qualifiers spread around the United States from January-June. All World Baseball, Baseball Heaven, Game Day USA, The Baseball Legends, Travel Sports Baseball and Xtreme Diamond Sports will operate qualifiers nationwide. With the inclusion of first class venues in Louisiana's Cypress Mounds Baseball Complex, Iowa's All-Star Ballpark Heaven and Missouri's Ballparks of America on the qualifier schedule, the NYBC will feature events in 12 states, the most in its 10-year history.
"Steel Sports is honored to carry the National Youth Baseball Championships into its 10th year," Steel Sports CEO David Shapiro said. "We are committed to creating a major league experience on and off the field when it comes to the competition, venue, national television, social media coverage, educational opportunities and interaction with MLB alumni. With the help of outstanding partners like Brita, the NYBC will host more youth players and teams than ever before in 2017 and continue to shine as one of the premier youth events in the country."
CBS Sports Network will nationally televise 12 games during NYBC's championship week, and MLB.com will live stream all 12 broadcasts online. The week will also feature an opening ceremonies, a televised 12U All-Star Game, appearances from Major League Baseball celebrities and a festival throughout the week to commemorate the 10th anniversary.
"Having traveled to youth baseball events all over the country, I can say the National Youth Baseball Championships is unlike anything I have experienced," former Major League Baseball player and manager Bobby Valentine said. "The NYBC is everything youth baseball should be about, a positive and fun experience that offers much more than high level competition on the field. I've been fortunate to be a part of the NYBC the last two years, and it's something I want to continue being a part of for as long as I can."
NYBC qualifying begins on Martin Luther King Jr. weekend (Jan. 14-16) with events in Arizona, California and Florida. Additional qualifiers will be held later in the year in Illinois, Iowa, Louisiana, Michigan, Missouri, Nevada, New Mexico, New York and Texas.
For more information on the 2017 NYBC and the full qualifier schedule with dates as they become available, visit NYBCbaseball.com.
Watch highlights from the 2016 National Youth Baseball Championships.
###
About Steel Sports:
Founded in 2011, Steel Sports Inc. is committed to improving the youth sports experience and enriching children's lives. Our organization recognizes the value that sports and fitness has in providing meaningful and life-changing experiences for our nation's youth. We operate and manage participatory and experience-based businesses in the youth sports and exercise marketplace, emphasizing a positive and fun environment while instilling our values of discipline, teamwork, safety, respect and integrity. The Steel Coaching System is implemented with each portfolio company to ensure our coaches are educated and prepared to have a positive impact on our athletes. Our core businesses include: the National Youth Baseball Championship, the country's premier travel ball championship for ages 9U-14U; Baseball Heaven, a 30-acre baseball complex in Long Island; and UK Elite, one of the largest soccer programs in the country offering programs such as summer camps, coaching services, teams and tournaments. 
Website: http://www.steel-sports.com
About Baseball Heaven:
Baseball Heaven Long Island (BBH) is a 27-acre modern baseball and softball facility with four full-sized and three youth league-sized fields built for children and adults to experience playing on professional quality fields against top competition from the Northeast and mid-Atlantic regions.
BBH's sport complex is equipped with all the amenities of a professional ballpark, including below grade dugouts, connecting bullpens, warning tracks, a year-round indoor facility, state-of-the-art artificial turf and electronic scoreboards. Baseball Heaven also accommodates its spectators with ballpark seating, concessions and a picnic area. Baseball Heaven hosts tournaments, leagues, camps, clinics and other events from mid-March until early November.
Website: http://www.baseballheavenli.com