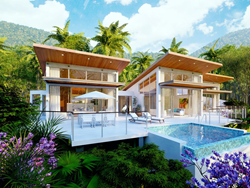 We think our loyal following and new guests will be excited with what they'll find
San Ignacio, Belize (PRWEB) October 25, 2016
The Lodge at Chaa Creek has just released a list of new Belize vacation offerings for 2017, and travelers can look forward to a continued emphasis on cultural and nature-based adventures as well as the popular Belizean eco-resort's most luxurious accommodations to date, according to general manager Bryony Fleming Bradley.
Ms Bradley was announcing a new tranche of initiatives for next year, which she said were based on consultation and feedback from guests.
"We've just completed our annual audit of activities and offerings, which we use to guide the development of the following year's tours and initiatives. After a managers' meeting that involves input from staff and feedback from guests we take stock of our current offerings and discuss how we want to move forward in the new year.
"It's one of the ways in which we try to keep up with, and satisfy, travelers' expectations," she said.
Feedback from visitors indicates a growing interest in Belize's famously multicultural society, she added.
"Our guests are always commenting on the fact that in towns, at the Maya archaeology sites, markets and right here at Chaa Creek they'll hear all these different languages spoken, and they're fascinated by that. Creole is the most predominant, as almost everyone speaks that form of English, but you'll also hear Spanish, Maya, Garifuna and even German from the Mennonites, as well as a sprinkling of Asian," she explained.
"We constantly hear how impressed visitors are that, for such a small country, there are all these different cultural influences, yet everyone seems to get along so well. It's always been that way in Belize, and I guess we hadn't really noticed it until tourism became popular," she said.
Chaa Creek has always offered tours of the many ancient Maya temples, abandoned cities, ceremonial sites and sacred caves, Ms Bradley said, and more recently, in response to visitors' interest, have created a week long "Belize Cultural Grand Tour" that takes guests across Belize to experience life in Mestizo and Maya villages, a Mennonite agricultural community and other areas before culminating in a three day stay in a luxury villa resort near the seaside Garifuna community of Hopkins.
"I don't think anyone has done anything on this scale before in Belize, and it's something we're quite excited to offer, as it really celebrates the cultures and cultural harmony that defines Belize," she said.
Another ambitious initiative is opening of the new Ix Chel Luxury Rainforest Villas set to coincide with the beginning of the new year, Ms Bradley explained.
"Chaa Creek has always catered to a wide range of guests with accommodations ranging from our signature eco-luxe thatched roof cottage rooms to villas and suites that have attracted some well-known celebrities and VIPs. We also offer bungalow style accommodation at the Macal River Camp for those looking for a more rustic experience.
"With the new Ix Chel Villas, we're setting new standards for luxury accommodation in Belize. Individual suites are fronted with floor-to-ceiling glass walls and doors that provide private, sweeping views of the rainforest, and personal Jacuzzi's, plunge pools and alfresco showers are set on expansive verandas with a personal butler on hand to look after every need and organize all services and activities.
"It's a level of comfort that I don't think has ever been offered in such a pristine jungle setting, and in such an environmentally friendly manner," Ms Bradley said.
Chaa Creek built its reputation over thirty-five years ago with inland expeditions, and Ms Bradley that emphasis on adventure is still very much alive.
"We're continually enhancing activities within our 400 acre private nature reserve, exploring new terrain with ATV jungle safaris, river excursions on a traditional Belizean johnboat, and maintaining old favorites like the 'Creatures of the Night' evening nature walks, early morning birding, guided or self guided walks along as well as horseback and mountain bike riding along miles of networked trails and canoe excursions down the beautiful Macal River.
"And with our impressive range of tours, excursions and all-inclusive Belize vacation packages that cover the entire country from the Belize Great Barrier Reef, dozens of cayes and Caribbean coast to the ancient Maya city of Tikal in Guatemala, there's a whole world of adventure just waiting to be discovered.
"And now, with the Ix Chel Villas, visitors can be immersed in a level of luxury that's as impressive as the surrounding nature," she said.
Ms Bradley encouraged travellers to visit their travel agents, Chaa Creek's website or contact the Lodge directly where a team of vacation specialist can help them begin planning their 2017 vacations.
"We think our loyal following and new guests will be excited with what they'll find," Ms Bradley said.
The Lodge at Chaa Creek is a multi award winning eco resort set within a 400-acre private nature reserve along the banks of the Macal River in Belize.