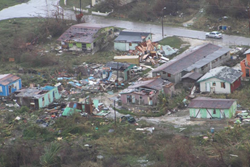 Hurricane Matthew brought true devastation to Grand Bahama. It has negatively impacted us structurally, economically and emotionally. - Fiona Daniels, Okyanos Executive
Freeport, The Bahamas (PRWEB) October 18, 2016
Okyanos Cell Therapy has launched a crowdfunding campaign aimed at helping residents of Grand Bahama Island and procuring badly needed resources following the destruction caused by Hurricane Matthew. Donations can be made through YouCaring: http://www.youcaring.com/RestoreGrandBahama
After hammering Haiti and Cuba, Hurricane Matthew battered Grand Bahama as a category 4 storm with flooding, pounding rain and surf, and upwards of 150-mph winds leaving it structurally devastated. Okyanos' facility was largely spared of any major issues, however Matthew left extensive damage to utilities, housing, and public infrastructure that will take millions of dollars to rebuild. Communications, power and water were knocked out completely, leaving the entire island without these vital basics.
As a proudly Bahamian organization located in Freeport, Okyanos is committed to supporting its community and doing its part to advance the recovery effort. The fundraising goal is $50,000 and 100% of proceeds will go directly to aiding those affected by the hurricane.
"Hurricane Matthew brought true devastation to Grand Bahama. It has negatively impacted us structurally, economically and emotionally," said Fiona Daniels, an executive at Okyanos. "It has been remarkable to see the community coming together to help one another in such a difficult time, and we are proud to be a part of any effort to rebuild and restore our island."
Following the storm, aid came to Grand Bahama in the form of electrical trucks and crew members from companies across the United States and Canada for a historic show of teamwork in safely restoring power to Grand Bahama, area by area. Still, a large portion of the island is still without power and restoration dates are uncertain. Residents are working around the clock in some sections of the island to clean up and rebuild quickly so as to allow commerce and tourism to resume.
"The support for Grand Bahama on an international scale has been significant, and residents themselves have been exceptional in their swift efforts to rebuild," says Matthew Feshbach, Okyanos co-founder and CEO. "We know that efforts to fully rebuild will be ongoing, however, and so we appreciate and encourage donations in any amount, big or small, and would love for others to join in our commitment to getting the island back on its feet."
The first priority will be restoration of power by generator to those for whom re-energization is uncertain. Once this effort is fulfilled, the focus will shift to things like clean-up and rehabilitation of the island's most fundamental resources: hospitals, children's homes and schools.
For more information, please contact Okyanos via email at info(at)okyanos(dot)com.
ABOUT OKYANOS CELL THERAPY: (OH – KEY – AH – NOS)
Combining state-of-the art technologies delivered in the first cell therapy center of excellence in the world, Okyanos is the leader in adult stem cell therapy. Okyanos Cell Therapy helps people living with chronic, degenerative diseases get back to a more normal life through a novel treatment approach using fat-derived stem cells. Learn more at http://www.okyanos.com. Based in Freeport, Grand Bahama, Okyanos is fully licensed under the Bahamas Stem Cell Therapy and Research Act and adheres to U.S. surgical center standards. The literary name Okyanos, the Greek god of the river Okeanos, symbolizes restoration of blood flow.
###