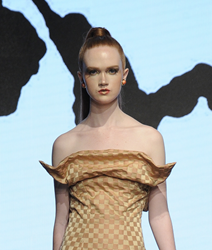 Los Angeles, CA (PRWEB) October 18, 2016
After massively successful shows for New York Fashion Week, Art Hearts Fashion returned to Los Angeles, October 9-12th at the iconic Beverly Hilton Hotel in Beverly Hills where the Golden Globes take place. FHI Brands was behind the scenes working with designers on the latest hair trends for Spring/Summer 2017. This Fashion Week lead with an impressive four day marathon of runway shows, installations, and performances. This season boasted an impressive lineup showcasing over 40 designers including: Amato Haute Couture, Mister Triple X, Hale Bob, Project Runway's Dexter Simmons, Wilfredo Gerardo, Rocky Gathercole and many more. Hair Team lead by April Love Medrano and Anthony Betance.
Sleek High Pony:
1. Apply small amount of Stylus 'Total Control' on damp hair, focusing from root area to mid lengths of hair
2. Have the client tip their head back. Using a paddle brush (and your nozzle on hair dryer) begin drying the hair while brushing in the direction of the ponytail
3. Use a cushion brush to help smooth the hair while pulling back into a high pony.
4. To secure pony, use a rubber band with two bobby pins. Attaching one pin in the base of the hair and wrap the rubber band and second pin around until desired tension. Next, place the second bobby pin at the base of the hair to secure ponytail.
5. Pick up a 1-2in section of hair from the pony. Apply a little more gel and comb with cushion brush into a smooth ribbon of hair.
6. Wrap the piece around the rubber band to hide it securing the end with a bobby pin, again hidden in base of ponytail.
7. Set the look with Stylus 'Stay Put' hairspray and 'Shine Express' shine mist.
Undone Texture:
1. Prep the hair with Stylus Fresh Start, Be Protected and Full Blown to protect, prime and add lasting fullness. Section out a circular parting around the crown of head, leaving out the hairline.
2. Using a 1 to 1 ½ inch wand or iron pick up vertical and approximately 1 inch wide sections, depending on thickness of hair. Wrap the hair around the wand, staying about 1-2 inches away from base and leaving the last 1-2 inches of hair off of the iron.
3. Continue working around the head, changing the direction of each curl for variation and a less structured look. Be sure to keep the sections around the front hairline facing back and away from the face.
4. When finished, gently run fingers through the hair to separate the curls. For additional separation and texture, tease sections of the hair using your thumb and pointer finger.
5. Finish with Stylus Stay Beautiful and Shine Express for touchable control and brilliant shine.
Retro Waves:
1. Prep hair with Stylus Sheer Remedy, Be Protected and High Altitude to protect, prime and provide style support. Section a radial parting from ear to ear then divide the front section in two on desired deep-set part.
2. Begin by lightly misting a 1 inch horizontal section at the nape with Stylus Stay Beautiful Light Hold Hair Spray.
3. Beginning at the base and while holding your iron horizontally with clamp side on top, twist and feed section of hair into the iron. Once curl is heated, slide iron out, pinch curl together and clip to set.
4. Continue working up the back of the head and the front sections, repeating the same curl pattern as previous section. Divide sections where needed for control.
5. Let the hair cool for 15 minutes and begin releasing clips in the same order you put them in, one row at a time. Using a wide tooth comb gently comb and push curl pattern into place.
6. Finally, smooth hair with a boar bristle styling brush and finish with Stylus Stay Finished and Shine Express for lasting hold and brilliant shine.