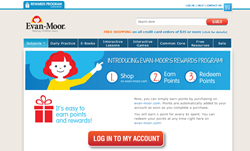 ShopSocially enabled us to significantly increase the average order value and repeat purchases per user for our customers. - Trisha Thomas, Chief Marketing Officer at Evan-Moor.com
(PRWEB) October 18, 2016
ShopSocially is pleased to announce yet another success story of its modern day loyalty program. Evan-Moor leveraged the loyalty platform from ShopSocially with an inbuilt 360 degree engagement module to boost customer engagement and spending at its online store.
Evan-Moor Educational Publishers, the well-known providers of educators with practical, creative and engaging materials that enrich the PreK–8 curriculum, launched a loyalty program using the ShopSocially solution. Within a 4 month period, the repeat purchase frequency per user jumped by 1.4X. The Average Order Value (AOV) for loyalty users jumped by 50%. As a result, revenue per customer increased by 100% for loyalty users. The loyalty program has made a direct, measurable impact on Evan Moor's revenues.
The brand encouraged its customers to engage with the program by awarding loyalty points for various activities such as account creation and email subscription along with purchases. The customers earned 1 point for every Dollar spent. Evan-Moor gave a wide variety of choices to its customers to redeem the loyalty points in the form of gift cards.
"ShopSocially with their new age loyalty program has proved to be a valuable partner in our growth.", stated Trisha Thomas, Chief Marketing Officer at Evan-Moor.com, "They enabled us to significantly increase the average order value and repeat purchases per user for our customers."
The ShopSocially loyalty program comes bundled with dynamic 360-degree engagement modules that enable businesses to reward customers not just for purchases, but also for all-round activities such as account creation, referrals, social engagement, sharing on Facebook, Instagram or Twitter, writing reviews and any other desirable actions. The loyalty program eliminates the need for complex programming and seamlessly integrates a comprehensive loyalty dashboard into the Client's website.
Evan-Moor is also using ShopSocially's user friendly Refer-a-Friend and Get-an-Email app on its home page. The referral program offers attractive incentives for both the referee and the referrer to motivate website visitors and customers to share the brand via popular channels like Facebook, Twitter and email with just once click. The attractive incentive combined with strategic placement of referral interface resulted in driving more sales and bringing genuine traffic to their site at the same time. Additionally, 1 out of 5 customers who came back to the website through the referral program completed a purchase. The Get-an-Email app provided an opportunity for the website users to earn an incentive in exchange for becoming email subscriber.
"We are delighted with the strong growth numbers achieved by Evan-Moor." commented Samir Palnitkar President at ShopSocially, "A truly win-win partnership that was enabled by the implementation of our result-driven referral and loyalty solutions."
About Evan-Moor:
Evan-Moor Educational Publishers provides educators with practical, creative and engaging materials that enrich the PreK–8 curriculum. Through the years, Evan-Moor has remained loyal to its mission: aligning educational materials with current standards and educational practices while piquing students' interest and motivating them to learn. Evan-Moor Educational Publishers offers a range of products, including teacher resource books, interactive lessons, student activity books, e-books, intervention resources, and free resources for both teachers and parents. For more information on the publisher, visit http://www.evan-moor.com
About ShopSocially:
ShopSocially is a SaaS-based, social, referral and loyalty marketing platform that delivers up to 40% more revenue by enabling an increase in new customer acquisition, engagement, conversion rate and retention. More than 500 global brands are using ShopSocially to grow their business via proven strategies such as referral marketing, visual commerce, customer loyalty, social login, social gamification, customer Q&A and more.
ShopSocially platform offers a comprehensive suite of marketing solutions which eliminates the need to implement multiple, inconsistent solutions and delivers a measurable ROI. Our fully managed services option ensures no additional work for your marketing or IT team.
ShopSocially has won several awards and recognition's for its innovative technology. To learn more how ShopSocially can help grow your business, please contact us at (650) 701-7759 or at http://www.ShopSocially.com