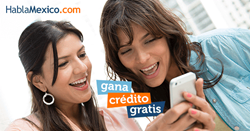 A hugely useful service to the worldwide mobile users, especially if you are language challenged with local telecom websites! (Ian on Trustpilot.com)
Atlanta, Georgia (PRWEB) October 19, 2016
HablaMexico.com offers Mexican expats from all over the world 4 special Telcel packages for their Telcel mobiles or their relatives' cell phones in Mexico. Mexican expats can top up their family and friends Telcel mobiles choosing one of the several Telcel packages called "Amigos sin Límite" that include unlimited calls, text messages and up to 2.5 GB of data available in Mexico, USA and Canada. Anyone interested can open a free account on HablaMexico.com and in less than 1 minute purchase one of the 4 prepaid Telcel packages "Amigos sin Límite": https://hablamexico.com/buy/mobile_recharge
The packages on HablaMexico.com address:
-Mexicans who travel to the USA and Canada and need to use their Telcel mobiles there, with roaming on their phones.
-Mexican expats who want to top up their friends' or relatives' Telcel mobiles in Mexico from the distance.
-Mexicans living in Mexico, who use the self-service on HablaMexico.com to top up their own mobiles online.
The great thing about "Amigos sin Límite" is the flexibility in terms of money and usage. There are several package for specific personal needs and budget.
-The minimal package costs 100 MXN, and includes 1GB of Internet for Facebook, Twitter and WhatsApp, plus more 300MB, unlimited messages and calls, valid in Mexico, USA and Canada for 23 days.
-The largest package "Amigos sin Limite" costs 500 MXN and offers 1GB of Internet for Facebook, Twitter and WhatsApp, plus 1.5GB of Internet for other purposes, unlimited minutes and text messages, all valid for 50 days within Mexico, USA and Canada.
There are also 2 intermediary "Amigos sin Limited" packages:

1GB of Internet for Facebook, Twitter and WhatsApp, plus more 400MB of Internet for other purposes, unlimited calls and text messages, valid for 30 days at the price of 150 MXN.
-800MB of Internet, plus 1GB of Internet for Facebook, Twitter and WhatsApp, unlimited calls and text messages, valid for 40 days at the price of 300 MXN.
To purchase a package, anyone can use any major card, no matter the currency of the bank account, or a PayPal account. Since the payment is online on HablaMexico.com, it only takes few seconds to complete it. The transaction is 100% safe. The website is "Certified & Verified", which is obvious from customer reviews on such platforms like Trustpilot.com, as well as the label in the footer of the website.
These packages are not fixed. They can change their content and terms of use from times to time according to Telcel. The updated packages are available on HablaMexico.com top up pages.
It takes seconds to make the recharge on HablaMexico.com:.
-First, one needs to open a free account on HablaMexico.com, the website dedicated to Mexican expats worldwide.
-Secondly, one needs to access the Mobile Recharge tab, then choose "Telcel NEW" from the operator's list, plus the phone number to be recharged and the amount.
-Thirdly, one is sent to the checkout, where there are no hidden fees.
Besides mobile recharges to Telcel mobiles, HablaMexico.com facilitates top ups to other mobiles in Mexico, that pertain to all the major phone providers in the country: Iusacell, Nextel, Movistar and Unefon. It takes less than 1 minute to send the credit abroad using the same online top up form on HablaMexico.com.
Every purchase on HablaMexico.com brings customers Thank You points for free international calls to Mexico and other destinations via the Voice Credit service. With Voice Credit, the balance never expires. If one uses Voice Credit that comes from converting Thank You points, calls cost nothing. Otherwise, those who purchase Voice Credit for their regular calls to Mexico or elsewhere benefit of low rates: 0.5 cents/minute to call landlines and 1.9 cents / minute to call mobile phones in Mexico.
The lowest rates on the global market to call Mexico is via "Mexico Ilimitado," a package that comprises an unlimited number of minutes to call mobile phones and landlines in Mexico, for as little as $4.99/month. The plan is flexible: no contract is required, it can be cancelled any time, as well as reactivated when case.
The third service offerd by HablaMexico.com to Mexican diaspora is the Virtual Number. This is a number in Mexico, that someone can use in USA, Canada, Australia, etc. For a fixed amount of $9.99/month, any Mexican abroad can receive unlimited number of calls as if he/she were two streets away from their families or friends calling them from Mexico. International calls thus turned into local calls due to this Virtual Mexican Number.
An account on HablaMexico.com comes with a number of advantages:
-Instant and secure international mobile top ups
-3 different ways to call: from a PC or laptop, from KeepCalling app or using access numbers that require no Internet access
-Thank You points added for each purchase
-Anyone can earn credit while recommending the service to other fellow expats.
-No contract required between the parties
-Easy to use website for both experts and beginners
-Regular promotions (bonuses and discounts) and Facebook prizes on the Community page: https://www.facebook.com/ExtranoMexico.Fan/
-free features like Speed Dial, PINless Dialing, etc.
-KeepCalling app is free to install on any Android device, iPhone, iPad or iPod Touch
-24/7 human Customer Support for any explanation or question
-Online Help Center with Frequently Asked Questions
-Online call history and account transactions available non-stop.
HablaMexico.com is a website dedicated to the Mexican diaspora worldwide. The website is a brand of KeepCalling, a global telecommunications company registered in 2002 in the USA. Presently, KeepCalling provides its services to hundreds of thousands of consumers and businesses, with a focus on customer satisfaction. KeepCalling has been listed by Inc 5000 as one of the fastest growing companies in the USA for 5 consecutive years. In 2015 the company registered a revenue increase of over 200% from 2011 to 2014.