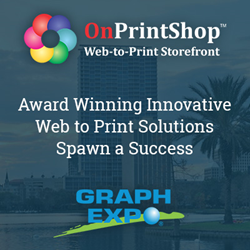 OnPrintShop focuses on helping define right technology backbone, providing high-end support, and continuous upgrades, which has been helping our clients to address emerging challenges, open new opportunities and continuously improve productivity
ORLANDO, Fla (PRWEB) October 19, 2016
OnPrintShop, the leader in Web to Print Solutions for the Print industry, is riding a wave of astonishing success at Graph Expo 2016 with a broad range of web-to-print innovations that empower PSPs (Print Service Providers) business. The launch of Unified W2P Advanced B2B nConnect which helps integrate multiple sales channels and best of technologies on a single platform earned 2016 Must See 'Ems Award and huge attention on the floor was a show stellar. This helped OnPrintShop team to open discussions with a lot of third-party solutions, which can extensively help its clientele to grow.
Industry experts and Print Service Providers recognized the need for platforms that gives complete flexibility to companies to be able to quickly adapt new business strategies instead of struggling with multiple web2print technologies.
Further, OnPrintShop launched V5.3 with workflow management, enhanced corporate module to allow auto profiling, monthly invoicing, advanced rule-based templating, simplified template creation, further optimized B2C storefront and a list of new third party integration compatibility.
Being an established leader in the web-to-print market, OnPrintShop focuses on helping define the right technology backbone, providing high-end support, and continuous upgrades, which has been helping our clients to address emerging challenges, open new opportunities and continuously improve productivity and profits.", said Naresh Boradia, VP, Business Development, OnPrintShop.
"The booth visitors were highly impressed with the extensive integrations list, freedom to add new integrations, the OnPrintShop team who has extensive experience and solution designed to smoothly integrate the same. We're indeed overwhelmed with the grand launch, massive response from visitors and a huge success at Graph Expo", he further commented.
"We understand that print industry is varied in terms of print products and sales channels, different print products have different print ordering and printing process, which created high interest in our visitors as they had specific solutions to meet their unique needs", said Naimish Patel, Business Development Manager, OnPrintShop.
Commenting further on Graph Expo 2016 experience he said, "All four days were packed with demos and discussions to understand client specific needs and third party integration, focusing on Retail Segment, B2B & large franchisee networks, Trade Printer Solution, Custom built solutions to meet specific needs of their clients, Mailing, and fulfilment solution, Online photobook solution & lot more."
"Most fulfilling was when our existing clients appreciated that they enjoyed working with our team for the quick communication and support round the clock, and love the way our solution has been evolving in terms of features and ease of use, which has been very helpful for them to grow."
About OnPrintShop:
OnPrintShop is a flagship product of Radixweb, an ISO 9001:2008 certified IT services provider with 16+ years of experience in delivering enterprise-class solutions for diverse industry verticals. With over 9+ years' experience delivering SaaS to custom Web to Print Software from startups to large PSPs & Fortune 500 companies, OnPrintShop has been recognized as the most simple & easy to use Online Printing Software provider to automate the print process from online order to delivery. Delivering personalized support 24/5 & work as a PSPs IT team. The range of solutions is powered by advanced technologies with flexible investment options-SaaS & highly customizable License Solutions. The Solutions - Platinum W2P, Online Photobook, Trade Printer, Multi-Store W2P Central Admin, Book Module, Custom-made Solutions. For details, please visit http://www.onprintshop.com