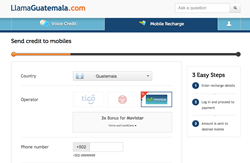 An excellent service. (ALBERTO BAUTISTA, customer)
Atlanta, Georgia (PRWEB) October 19, 2016
LlamaGuatemala.com hosts a new promotion on top ups made by Guatemalan expats to any Movistar cell phone in Guatemala. More precisely, 200% free credit is added automatically as a Bonus for Movistar mobile top ups above $10 until October 23rd, 2016 on LlamaGuatemala.com: https://llamaguatemala.com/buy/mobile_recharge
The 200% bonus applies for all prepaid ATH plans in Guatemala, and it is valid according to the Terms of Use of the local provider, in this case Movistar.
The only condition to be able to send the Bonus along with the main Movistar credit amount of $10 minimum, is to have a free account on LlamaGuatemala.com. It takes less than 1 minute to complete the transaction, which is 100% safe. The online top up service on LlamaGuatemala.com is "Verified & Certified" and the top up reaches the cell phone in Guatemala instantly.
Many expats send mobile credit to their families and friends back home in order to support them from the distance and to pay a surprise from time to time for their folks in Guatemala, through a fast, easy and online environment.
Several payment methods are accepted: all major cards, as well as PayPal. The system is 100% secure and fair and has been consequently acknowledged as "Verified & Certified."
Other mobiles that can be loaded on LlamaGuatemala.com are Tigo and Claro mobiles in Guatemala. Promotions for these operators run weekly, and Bonuses amount to 200% gift credit.
The senders of the mobile recharge amount also get a gift from LlamaGuatemala.com. Besides the fact that they get to send a bonus to their relatives in Guatemala, the senders receive Thank You points on each top up they make. These points can be converted into Voice Credit for free international calls.
Voice Credit is the best alternative to calling cards. It is time saving and much cheaper. Plus, Voice Credit is a calling and texting service dedicated to expats, that comes with several advantages:

3 ways to call Guatemala: KeepCalling app, access numbers, plus Web Call desktop app.
Free features to simplify the calling experience available for anyone holding an account on LlamaGuatemala.com
Credit never expires.
The current promotion for expats' relatives using a Movistar mobile in Guatemala is available until October 23, 2016. But new offers are announced weekly. The best way to stay tuned is to subscribe to "Get offers" by email. The option is available in the footer of LlamaGuatemala.com.
The reasons why people choose LlamaGuatemala.com according to review platforms are mainly about quality of service and fairness:
24/7 human customer service
All records and history available in one's account without extra costs
Lowest rates on the market on calling and texting, and the lowest processing fee for mobile recharges
No hidden fees
LlamaGuatemala.com is a website dedicated to the Guatemalan diaspora worldwide. The website is a brand of KeepCalling, a global telecommunications company registered in 2002 in the USA. Presently, KeepCalling provides its services to hundreds of thousands of consumers and businesses, with a focus on customer satisfaction. KeepCalling has been listed by Inc 5000 as one of the fastest growing companies in the USA for 5 consecutive years. In 2015 the company registered a revenue increase of over 200% from 2011 to 2014.