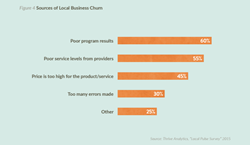 The current approach of selling SMBs into individual digital channels and point solutions doesn't work any longer
Libljana, Slovenia (PRWEB) October 20, 2016
It is not easy for a local business to run an effective online marketing operation, given that they have to compete for online consumers' attention with big brands that have significantly larger budgets. Those who choose to self-manage the operation end up having to deal with a great number of digital tools, multiple logins and often - very little results. Those who decide to go to a service provider are likely to end up disappointed. According to the latest study conducted by LSA (Local Search Association), over 60% of local businesses choose not to continue their contracts with marketing service providers due to poor program results.
"The current approach of selling SMBs into individual digital channels and point solutions doesn't work any longer - it creates complexity for the sales channel and the SMB buyer," says Greg Sterling, VP Strategy and Insights at LSA, referring to service providers who offer SMBs to either build a website, handle SEO, or social media management. "Evidence of problems is the high churn that most MSPs (marketing service providers) see with their digital products."
At SIINDA's "LocalReach" conference in October, industry experts recognized Camilyo's technology as an alternative answer to the churn problem. Instead of focusing on silo solutions, it provides one holistic platform that helps agencies address most of their SMBs' needs. With a completely integrated platform, they can build and maintain websites and online stores, run campaigns, keep track of performance and manage SMB customer relationships, all from the same place.
Marketing service providers who already use Camilyo include leading companies in North America, Latin America, Europe, Africa and the Far East. They are able to offer their customers packaged services which address all the marketing and sales funnel stages (attract-convert-retain).
SIINDA (Search & Information Industry Association) is the leading European-based non-profit association bringing together companies in the search (digital, mobile, print, vertical directories and platforms), information, and telecommunication sectors as well as businesses providing "on demand" services.