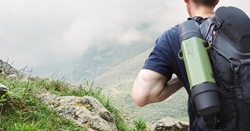 We call it the world's best travel-friendly reusable to-go container
San Francisco (PRWEB) October 18, 2016
A team of environmental engineers, business developers and designers have created GreenTraveler to solve the problems of leaking, waste and mess from carrying food and drinks on-the-go. GreenTraveler has launched today on Kickstarter.
GreenTraveler is designed to be cylindrical like a water bottle so it can easily clip to a bag or strap and even fit in a backpack side pocket. The liquid-tight design that has six separate, compartments which can carry over a liter of food, beverages, first aid supplies or any other items in a single travel-friendly unit.
Co-founders James Robinson and Juliene Wintermute, who have active lifestyles and care about the planet and healthy eating, wanted to find the best food containers for lunches on the go. When they searched the market and found none, they decided to invent it themselves.
"We were both fed up with throwing away disposable to-go containers that we knew were ending up in landfills, and we were frustrated by the mess, bulkiness and impermanence of standard plastic food storage containers, bags, or glass jars," Robinson said. "So, when Juliene and I teamed up in a business-plan competition, we created something we think the world will love using."
"We call it the world's best travel-friendly reusable to-go container," Wintermute added. "You can carry it inside or outside your bag and be confident that the lid won't pop off, whether you take it traveling, biking, to the office, or to the mountains. It's the perfect eco-friendly lunch container; offering users an efficient way to carry food and help our environment at the same time."
GreenTraveler keeps items like trail mix and matches dry, while at the same time carrying liquids like soup or spaghetti sauce. With the empty weight and volume printed on every container, it can be used to measure portions, buy food by weight from a hot bar or deli, without being charged for the container weight. It's also great for packing lunches and meals for the work day and for taking leftovers home from a restaurant without wasting a disposable container.
In addition to everyday uses, it's also rugged enough for hiking, skiing, canoeing, climbing and every outdoor activity. Constructed with ABS plastic, known for its technical and food-safe properties without BPA or phthalates, it's also resistant to high-heat – making it safe to use in microwaves and be cleaned in dishwashers.
GreenTraveler is also designed to be safe for children. It contains no leaching plastics, no hazardous chemicals, and no small parts that could be a choke hazard for kids. It's made with the same plastic as LEGO.
The Original GreenTraveler is available on Kickstarter for a limited time with early-bird special pricing, including more discounts available with additional purchases. For more information, visit the GreenTraveler Campaign Page:
https://www.kickstarter.com/projects/76377603/greentraveler-worlds-best-travel-friendly-food-con
About GreenTraveler
Founded in 2015 by James Robinson and Juliene Wintermute, who met in college as environmental engineering students, GreenTraveler is focused on creating dynamic, useful and sustainable to-go ware through a design process that produces minimal to zero-waste during any of their product's production and distribution cycles. The addition of their third partner Josey Zadoria has helped to bring an idea into the marketplace. The company is committed to donating one percent of its net income to natural resource conservation funds and encourages the recycling of all its products through a return program. For more information, visit http://www.mygreentraveler.com.