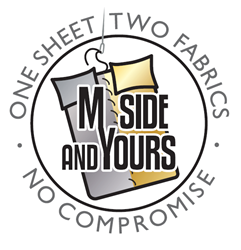 We are so excited to help couples around the world get a better night's sleep.
Apex, N.C. (PRWEB) October 18, 2016
According to the National Sleep Foundation, nearly one in four couples report sleeping in separate beds because they cannot fix their co-sleeping differences. Furthermore, bettersleep.org reports that 60 percent of women say their sleep environment keeps them awake more than their partner.
An Apex, North Carolina couple has set out to address these all-too-common co-sleeping issues with the launch of My Side and Yours, the world's first commercially available bedsheets with different fabrics on each side of the bed. Jonathan and Mollee Lamb developed this concept based on their own experience of "fighting over the sheets."
"It was Mollee's ice cold feet, cocoon of blankets and stealing of the covers that inspired the idea for My Side and Yours," said Jonathan. "What started as a pie-in-the-sky idea has turned into a real product set to launch on Kickstarter this month. We have worked tirelessly to develop the perfect combination of fabrics for any temperature and fabric preference. We are so excited to help couples around the world get a better night's sleep."
My Side and Yours bedding is hand-crafted in the United States with fabric specifications, so couples design the perfect pairing of linens to satisfy both partners' preferences. Couples will get the look, feel and comfort they need for optimal sleep.
Couples can choose from an array of fabrics, such as Bamboo Cotton Jersey, incomparably soft and eco-friendly; the ultra-breathable, moisture-wicking Eagle Mesh; Fuzzy Bamboo Cotton Stretch Fleece, fluffy, warm and supremely soft; and the smooth, lightweight, soft Chambray Denim.
To make increased production possible, My Side & Yours launched a Kickstarter campaign on October 18, where couples can purchase customized sheets at a significant discount off the full retail price.
"We know there is a market for this," said Mollee. "We are already using them at home, and I can finally get what I want on my side of the bed, and Jonathan can get what he wants on his side. We can't wait to provide the same reality for couples around the world."
For more information, visit the My Side and Yours Kickstarter page.