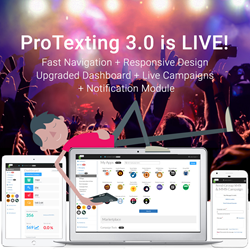 New York, NY (PRWEB) October 20, 2016
ProTexting, a New York based company that specializes in helping clients create impactful SMS text messaging campaigns, has just released a new interface and dashboard, called ProTexting 3.0. This will make it easier for clients to make use of the company's many services.
The dashboard allows clients to manage the variety of marketing tools offered by ProTexting, including access to short codes, which make it possible for clients to run many types of smart campaigns with only few clicks. At the other spectrum, customers will experience better and more engaging text message interactions. Mobile campaigns include contests, coupons, voting and polls, text to screen and many more available via the new interface. ProTexting provides comprehensive analytics allowing clients to track the performance of their campaigns.
Real-time view and management of all active campaigns is available via the new ProTexting dashboard. Clients can access important information and follow performance of the text message marketing campaigns. This includes but not limited to daily keywords activity reports, engagement of contacts, analysis for ongoing campaigns, and multiple KPIs. The new dashboard is designed to be even more user-friendly, quick, efficient and informative.
Features of ProTexting 3.0

Improved Responsive Design. Fits all screens; desktops, larger digital screens, mobile phones, tablets. Enables users to manage their campaigns from any device, with easy navigation of the platform's core features.
Upgraded Dashboard. Gives clients a quick overview of the account's status, messaging and keyword activity, essential information about contacts, such as where they are based, opt-out rate, growth and upcoming schedules.
Fast shortcuts to all live engagement campaigns.
Improved navigation to all account settings for billing, time zone, API and more.
Notification Module. Provides immediate alerts for important account activities and product updates.
ProTexting CEO Kalin Kassabov says "Our mobile marketing platform provides a wide variety of options for setting up impactful SMS campaigns. Having a simple and easy to use interface is an important part of what we provide. We designed Protexting 3.0 to make it easier for clients to keep track of all their data so they can run even more effective campaigns than before."
About ProTexting
ProTexting is one of the pioneers in SMS mobile marketing. The company, based in New York City, was founded by CEO Kalin Kassabov and CTO Petar Kassov. ProTexting provides businesses with a variety of tools to help businesses connect with their customers using mobile technology. Their clients include businesses in all different industries, including restaurants, car dealerships, real estate agencies nightclubs, advertising agencies and many others.
Contact:
PROTEXTING LLC
1 State Street Plaza, 33rd Floor
New York, NY 10004
(800) 258-9115
Website: https://www.protexting.com
Email: info(at)protexting(dot)com