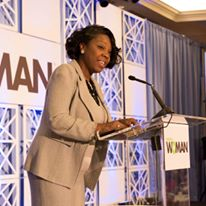 There is much work to be done to move the needle forward to ensure there are more women in leadership roles and the C-Suite.
Baltimore, MD (PRWEB) October 19, 2016
The 11th Annual National Diversity Women's Business Leadership Conference brought the pages of Diversity Woman Magazine to life as part of a two-day event in Baltimore, MD, October 10 – 11. With a welcome message from Baltimore Mayor Stephanie Rawlings-Blake, hundreds of women leaders from across the nation and abroad gathered to strategize around ways to bring gender diversity to and ensure equity in the workplace.
With the conference theme, "No More Glass Ceilings," Mayor Rawlings-Blake noted to the group of more than 400 conference attendees that, "These are historic times for women and that many more 'glass ceilings' will be shattered," thereby dispelling myths and removing barriers that prevent women and girls from reaching their full potential in the workplace, marketplace and public service sectors.
In a recent statement, Diversity Woman Magazine's founder and publisher Dr. Sheila Robinson said, "As we celebrate accomplishments to date, we know there is much work to be done to move the needle forward to ensure there are more women in leadership roles and the C-Suite." As a part of the conference, Robinson pointed to the findings of her recent research showing that women can not only identify and gain the tools they need to accomplish their leadership goals, but they can also actively pursue and cultivate these assets in ways that offer career and personal fulfillment. Dr. Robinson noted that the conference is an extension of her commitment to closing the leadership gaps that continue to persist for women in business.
Conference attendees spoke to the networking value of the annual National Diversity Women's Leadership Conference, including Dell EMC's Vice President of Global Diversity Jackie Glenn, who said, "Women must learn how to make the most of their collective energy and expertise to ensure the development of a pipeline of female leaders who can create change for both themselves and others – personally and professionally."
Joyce Russell, president of Adecco Staffing US, offered a powerful message about mentorship, women in the workforce, and the importance of ensuring diversity and inclusion, by adding that, "If [women] are not moving up in the company, they're either with the wrong company or with the wrong boss."
Diversity Women's Business Leadership Conference is a premier event for women of all races, ethnicities and cultures. Female leaders, executives, as well as male champions come together for the two-day event that features powerful, cutting-edge keynote addresses, seminars and group discussions.
The annual conference also recognizes diverse and multicultural women for their unique vision and leadership through presentations of the Diversity Woman Media, "Mosaic Woman Award."
This year's honorees were:

Global Leadership Award: Dr. Gloria Bozeman Herndon, Global Entrepreneur, Founder and President, GB Group Global – an industry leader in the development of innovative and sustainable solutions in the energy, environment and health sectors.
Trailblazer Award: Sunny Hostin, Senior Legal Correspondent and Analyst, ABC News; Co-host of ABC Daytime's morning show, "The View."
Pioneer Award: Andra Rush, CEO, Rush Trucking – the largest women and Native American-owned freight transport company in North America
Legacy Award: Lisa Lutoff-Perlo, President and CEO, Celebrity Cruises – the first woman to lead one of Royal Caribbean Cruises, Ltd.'s cruise line brands.
Featured speakers of the 11th Annual Diversity Women's Business Leadership Conference were, The Honorable Joyce Banda, President of the Republic of Malawi (2012- 2014); Tena Clark, Founder and Grammy Award Recipient, DMI Music & Entertainment; Pat Harris, Global Chief Diversity Officer and Vice President Global Community Engagement, McDonald's Corporation, and a host of other leaders from the business, corporate and government sectors – including Grammy Award-Winning Singer Patti Austin, who debuted a song written about discrimination called, "My, My, Mississippi."
Host sponsors of the 2016 National Diversity Women's Leadership Conference were, Dell, Cisco, Target, Walgreens, The Walt Disney Company, and SHRM (Society for Human Resources Management).
Other conference sponsors and partners were: Barclays, Delhaize America, U.S. Department of Energy, Express Scripts, Fannie Mae, Hyatt, Intel, Lockheed Martin, Mastercard, McDonald's Corporation, Nielsen, Verizon, AT&T, U.S. Department of Defense, L3, JPMorgan Chase & Co., Sodexo, Wells Fargo, Adecco, Cigna, Kellogg School of Management, Starbucks, The Winters Group, Women Connect 4 Good, Asia Society, Charisse R. Lillie, Cook Ross, Global Con Group, Dignity & Respect, DMI Music & Entertainment, L'Oreal, Publicis Groupe, SDS Global Enterprises, Inc., United Way, University of Phoenix, and WOMEN Unlimited, Inc.
Diversity Woman Magazine, (http://www.diversitywoman.com), is the only publication designed exclusively to help diverse and multicultural women achieve their career and business goals. The magazine, website and events support employee retention, recruitment, women's leadership and executive development. Subscriptions are available online; the magazine is distributed nationwide in select Barnes and Nobles stores, and you can also find Diversity Woman Magazine on specialty newsstands.
To view the conference photo gallery, visit the Diversity Woman Facebook page.(https://www.facebook.com/pg/DiversityWomanMagazine/photos/?ref=page_internal)
For more information and a complete listing of speakers and sponsors, as well as information about the 2017 National Diversity Women's Business Leadership Conference and/or opportunities to bring Dr. Sheila Robinson's important research findings to your audience, visit http://www.diversitywoman.com/conference and/or email info(at)diversitywoman(dot)com.