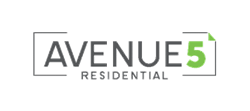 Avenue5's track record, service offerings, and unique culture will position multifamily owners to achieve their growth and revenue objectives.
Seattle, WA (PRWEB) October 18, 2016
Avenue5 Residential, a multifamily property management services firm, announces that it has expanded its operations to the Northeast/Mid-Atlantic region of the United States. The company, which originally commenced operations with a 6,500-unit West Coast portfolio in early 2014, currently oversees a 12-state portfolio of more than 140 multifamily properties and over 25,000 units. This portfolio is located in markets across the Western United States, Texas, the greater Washington, DC area, and Baltimore.
"We are well-versed in markets throughout the Northeast and Mid-Atlantic, and are actively leveraging our local expertise and strong operations infrastructure and technology platforms to optimize performance for our clients in the region," confirmed Walt Smith, chief executive officer at Avenue5.
The company's East Coast properties under management, which contain a mix of over 1,250 stabilized and lease-up units, are overseen by Michael Thayer, vice president of operations. Thayer, who has been active in the property management industry since 1998, holds expertise in optimizing operational and financial performance for all property types and strategies in the Mid-Atlantic markets. He has demonstrated proficiency in maximizing each asset's net operating income and developing and implementing effective processes for leasing, marketing, collections, resident services, expense control, revenue enhancement, and capital improvements. Prior to joining Avenue5, Thayer served in operations leadership roles at firms including Aver Residential Group, LLC and Riverstone Residential Group.
Thayer works closely with Marysusan Wanich, chief administrative officer, to ensure that Avenue5 meets its clients' strategic objectives in the Mid-Atlantic region. Wanich, who serves as the operations liaison for the region and is based in the Northeast, has worked in the real estate industry since 1978. She has experience in generating performance strategies for all property types, and in overseeing quality assurance, compliance, business integrations, maintenance and construction, and ancillary revenue program implementations for multifamily firms.
As the company explores further expansion in East Coast markets, Thayer noted that Avenue5's track record, service offerings, and unique culture will position multifamily owners to achieve their growth and revenue objectives.
"We understand that multifamily owners in the Mid-Atlantic are looking for a management firm that delivers a personalized level of service, hands-on involvement in every asset, and fresh insights on the market," he stated. "We look forward to delivering proof over promises, and helping our clients leverage every available opportunity for revenue growth."
Thayer is based in Avenue5's Reston, Virginia office.
About Avenue5 Residential
Avenue5, a multifamily property management services firm, oversees more than 140 properties with 25,000+ units in 12 states. The company is headquartered in Seattle, Washington, has offices in Phoenix, Arizona and Reston, Virginia, and retains local experts in and around major markets including Spokane, Southern and Northern California, Reno, Las Vegas, Portland, Salt Lake City, Albuquerque, Denver, Colorado Springs, Austin, Dallas, Baltimore, and greater Washington, DC. Avenue5 employs about 700 associates nationwide. http://www.avenue5.com