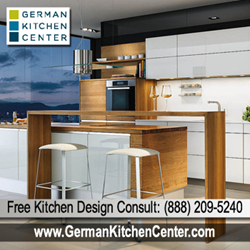 New York, NY (PRWEB) October 20, 2016
Every September, all the leading kitchen cabinet manufacturers participate in a professional trade show, unlike any other in the world, known as Germany's Open House in West Central Germany. Every year, Germany's Open House brings about a new opportunity for elite kitchen cabinet manufacturers to showcase the latest advancements in kitchen design trends and technologies. The area is so heavily saturated with German kitchen cabinet factories that it's sometimes referred to as the "Silicone Valley of German kitchen manufacturing."
During this time, each manufacturer completely renovates their factory showroom and opens their doors to industry professionals from around the globe. Manufacturers located outside of this region, rent a showroom year round so they too can participate in this special event. Unlike typical trade shows with display booths manned by sales associates, the attending visitors of Germany's Open House drive through the beautiful German country side touring each manufacturer's showroom featuring their latest kitchen innovations and designs for the coming year.
There are less than 20 established German kitchen brands that are truly committed enough and capable of participating in this industrialized approach. The ones that operate at this level have been in business for over 50 years, possess a Research & Development department, and an organizational structure capable of presenting a brand new showroom featuring the latest gadgets, styles and trends year after year. The level of business discipline required to participate in this show highlights the superior organizational structure and professional approach that marks Germany as one of, if not the world leader in manufacturing.
For many years, these globally known brands have made significant commitments and investments in remaining leaders in innovation. This has continuously elevated the level of quality and professionalism within the German kitchen cabinet manufacturing industry, shaping it into the world class operation it is today.
German Kitchen Center is proud to present these award winning European kitchen cabinets to the American market with showrooms across the nation. These brilliantly crafted European kitchens feature vast improvements to spacing, durability, functionality, lighting, and design; offering customizable solutions to fit any style, space and budget. For more information, contact German Kitchen Center at (888) 209-5240.