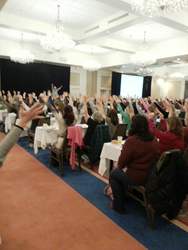 The Therapies in the School Conference is consistently one of the best year to year.
Boston, Massachusetts (PRWEB) October 20, 2016
Nationally acclaimed speakers including Jan Hollenbeck, Margaret Morris, John Pagano, Sara Harvey, and Melissa Gerber will provide collaborative approaches to supporting instruction in the classroom with related services, supporting the functional but struggling child, facilitating the development of fine motor skills, and will address realistic strategies and techniques for supporting the moderate to severely involved child. In addition, new sessions will focus on mindfulness, movement and music, therapeutic implications of current knowledge of how the brain works, motor issues in autism spectrum disorder, and visual processing as it affects learning.
The pre-conference, Zones of Regulation, will be taught by nationally acclaimed speaker Leah Kuypers, M.A. Ed., OTR/L, and will provide hands-on knowledge about the nature of self-regulation, and strategies for improving self regulation and emotional control in individuals of all ages. The presentation will address topics including the brain's involvement, typical development, sensory processing, emotional regulation, and executive functioning. Participants will learn an explicit, stair-stepped method and tools to guide students in utilizing The Zones framework across situations and environments to regulate sensory needs, impulses, and emotional states in response to social demands.
This course is recommended for physical therapists, physical therapist assistants, occupational therapists, occupational therapist assistants, speech-language pathologists, speech assistants, special education coordinators, special educators, teachers, school administrators, and other professionals working with school-aged children. Participants will earn contact hours (CEUs) while growing their skills and networking with other therapists and educators.
"The Therapies in the School Conference is consistently one of the best year to year. Not only are the speakers and topics up to date, the facilities are well thought out." -Kathy Niedfeldt
The course will be held on November 16-18th at the Sheraton Framingham Hotel in Framingham, Massachusetts. Therapists, educators, and administrators may register directly through Education Resources, Inc.
Education Resources, Inc. is a leading provider of evidence-based continuing education for physical therapists, occupational therapists, speech language pathologists, assistants, educators and other related services providers. For over 25 years, Education Resources Inc. and its esteemed faculty have educated therapists around the world on the latest topics applicable to school based therapists and other professionals providing services in the schools, in addition to clinicians practicing across the entire continuum of care. Education Resources, Inc. is co-owned by two therapists and is based in Massachusetts.