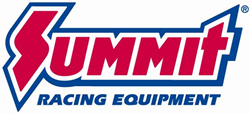 Tallmadge, OH (PRWEB) October 20, 2016
Summit Racing has created Engine Power Ford 390FE Parts Combos. Based on PowerNation TV's Engine Power 390 engine build, the Parts Combos show fans how to wrangle a few extra ponies out of the Ford FE, without upsetting a vehicle's street manners or draining a bank account. Hosts Mike Galley and Pat Topolinski based their mild performance build on a 390 truck block with stronger internals and a slew of bolt-on power adders. On the dyno, the big Ford made 413 peak horsepower and 445 lbs.-ft. peak torque.
Short Block Combo
Mike and Pat retained the stock 390 cast crank and rods, which are stout enough to handle up to 500 horsepower. They selected Keith Black pistons and rings, plus bearings from Clevite and Durabond complete the bottom end. The oiling system consists of a Melling oil pump and pickup nestled in a Summit Racing oil pan. An Edelbrock timing set ensures rock-solid timing, and the engine was sealed up with Fel-Pro gaskets.
Valvetrain, Induction, and Ignition Combo
The Engine Power crew had COMP Cams make a custom-grind cam rated at .617 inches of lift. A pair of Edelbrock Performer cylinder heads fitted with Harland Sharp roller rockers handle airflow duty. The induction system consists of an Edelbrock Performer RPM intake manifold and a 750 Quick Fuel carburetor. On the ignition side, the Ford 390FE benefits from a modern Pertronix ignition system—distributor, coil, and ignition wires. Cometic cylinder head gaskets provide proper cylinder head sealing.
Completer Combo
The 390 exhales through a set of JBA Competition Ready headers. Mike and Pat installed a billet steel Ford Racing flywheel to handle the motor's extra power. The engine was finished off with a set of Edelbrock valve covers and an Edelbrock Pro Flo air cleaner assembly. A Mezeire electric water pump frees up some extra horsepower.
See the assembly of the Ford 390FE on PowerNation TV's Engine Power.
Summit Racing Equipment
http://www.summitracing.com
1-800-230-3030