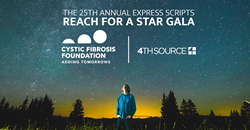 We're excited to join Express Scripts in sponsoring such an impactful event.
Clayton, MO (PRWEB) October 19, 2016
4th Source is proud to sponsor the 25th annual Express Scripts Reach for a Star Gala benefitting the Cystic Fibrosis Foundation (CFF). The event will take place at the Ritz-Carlton in Clayton, Missouri on Friday, October 21. The gala is the CFF Gateway Chapter's most anticipated event of the year, celebrating the heroes in the community who are working to provide a hopeful future for those living with Cystic Fibrosis (CF).
"We're excited to join Express Scripts in sponsoring such an impactful event. The Gateway Chapter of the Cystic Fibrosis Foundation does a wonderful job in helping people with CF live longer, more fulfilling lives." ~ Rick McKay, 4th Source Co-Founder & President
The Reach for a Star Gala is a black tie affair and will include a cocktail reception, gourmet dinner, live and silent auctions, and live entertainment. The Gateway Chapter, based out of St. Louis, MO, is one of 70 CF Foundation chapters across the country. Their work has contributed to major advancements in CF treatment. Once considered exclusively a childhood disease, approximately half of all people living with CF today are over the age of 18.
4th Source encourages everyone to join the CF Foundation in helping people add tomorrows by donating here.
About the Cystic Fibrosis Foundation
The Cystic Fibrosis Foundation is the world's leader in the search for a cure for cystic fibrosis, a life-threatening genetic disease that affects the lungs and pancreas. Nearly every CF drug available today was made possible because of CF Foundation support. Based in Bethesda, MD., the CF Foundation also supports and accredits a national care center network that has been recognized by the National Institutes of Health as a model of care for a chronic disease. The Cystic Fibrosis Foundation is a donor-supported nonprofit organization.
Join the cause to help people with CF by donating here.
About 4th Source
4th Source provides powerful, cost-effective IT services as an alternative to offshore outsourcing. Headquartered in Tampa, FL, 4th Source employs over 500 people in the US and Mexico who help performance-driven businesses with IT, business process services, data services, and application development. The hybrid nearshore-onshore model offers convenient proximity, efficiency gains, and significant cost savings.
4th Source has been recognized by Inc. magazine as one of the 5000 fastest growing companies in America six times. To find out more, visit http://www.4thsource.com.