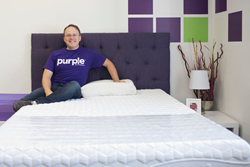 "Purple is one of the great growth stories in the industry's history and is experiencing the fastest growth of any company I'm aware of in Utah," Skalla said.
Salt Lake City, Utah (PRWEB) October 18, 2016
Purple (https://onpurple.com/), a comfort company known for its revolutionary "No-Pressure™" Mattress, today announced its board has appointed Peter Skalla as Chief Financial Officer effective Oct. 13, 2016. Skalla comes to Purple with extensive finance and executive experience at consumer goods manufacturing, e-commerce, and technology companies.
Skalla was most recently chief financial officer at Jamberry Nails, a Utah manufacturing, e-commerce, and direct sales company. Under Skalla, the company grew from a promising small business to an international beauty brand with operations on three continents.
Purple has had massive growth in 2016, its first year in operation. Silicon Valley Bank said its the fastest growing company in Utah and has had six-figure revenue numbers every day since March. Purple has grown from 30 employees in January to nearly 400 today. Skalla was brought on board to manage that success and keep it growing.
"Bringing Pete on board is one of several strategic steps we will take this year to expand upon the aggressive growth we are currently experiencing with our No-Pressure™ Mattress and other products" said Sam Bernards, CEO of Purple. "Pete has deep experience in growing and scaling businesses. His commitment to building the company by building and enabling our people to better serve customers makes him an ideal fit with our culture. Pete has deep experience in finance, accounting, international expansion, manufacturing, logistics, and legal areas. He's a strategic thinker but roll-up-the-sleeves doer and brings the skills we need to enable us to serve many, many more customers."
After starting his career in the investment management industry -- where he was recognized by the Wall Street Journal as analyst of the year for the investment performance of his recommendations -- Skalla transitioned to become a CFO over a decade ago.
His passion is building companies and he has never looked back. He has served as CFO or outsourced CFO for such companies as Jamberry Nails, AirVend, FotoPunch, and Mesa Networks. He was also co-founder of a financial technology startup, Qbillion, Inc. Skalla is a Charter Financial Analyst (CFA) and holds an MBA from the University of Arizona and graduated from Brigham Young University.
"Purple is one of the great growth stories in the industry's history and is experiencing the fastest growth of any company I'm aware of in Utah," Skalla said. "I've admired Purple's growth, innovation, and creativity. The company's ability to reach customers through humorous, viral video marketing that entertains while conveying the serious science underlying the products is as remarkable as it is fun. When Sam Bernards left the role he loved guiding startups as a founding partner at Peak Ventures to join Purple, I quickly came to view this as the most exciting and high potential company in the state to be a part of. I am honored to join a great and growing team in our commitment to solve the very real pain of uncomfortable sleep for millions of people. The innovation factory and go-to-market savvy of the co-founders, Terry and Tony Pearce, only magnifies that opportunity with a suite of soon to be released products that will impact how people stand and sit as well as sleep."
About Purple
After 20 years of creating and licensing comfort products, Tony and Terry Pearce launched Purple in January 2016. The founders have been granted 34 patents in the advanced cushioning arena. Sixteen patents and pending patents were used in creating the World's First No-Pressure™ Mattress and future products. Launched in January 2016, Purple (see OnPurple.com) has become a leader in sleep and comfort technology. Its products change lives through dramatic improvements to the quality of sleeping, sitting and standing.