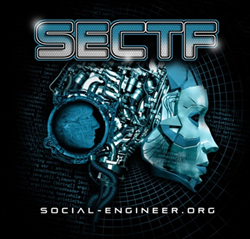 (PRWEB) October 20, 2016
Social-Engineer, LLC, the industry leader in social engineering vulnerability assessment, pentesting and training, has announced that it will host a complimentary webinar to reveal the results and a detailed analysis of the Social Engineering Capture The Flag (SECTF) competition. The competition, which has rapidly grown to be one of the most high profile events at the DEF CON Hacking Conference in Las Vegas, is held annually to demonstrate the ways in which attackers may exploit human vulnerabilities via a simple phone call. The webinar will be held on Wednesday, November 9, 2016 at 2pm EST. To register for the webinar, please visit:
http://www.social-engineer.org/ctf/def-con-24-sectf-results-webinar
This year, the SECTF competition featured 14 different contestants with diverse backgrounds and experience levels testing their social engineering skills against their targets and the clock.
"This year marked the 7th year running this competition and we thought we would give a major advantage to the companies we are calling, by focusing just on infosec-based organizations," said Chris Hadnagy, President and CEO of Social-Engineer, LLC. "That advantage did not prove to be a test for our contestants, as the results were scary."
As a result of choosing the information security industry, the audience members had the opportunity to see how well-known service providers such as Cisco Systems, Comcast Xfinity, Dell Secure Works, and Akamai Technologies fared.
"I think the main take away is that it doesn't take an experienced attacker to obtain potentially damaging information from anyone," said Michele Fincher, Social-Engineer's Chief Operating Officer. "The primary factors for successful vishing calls continue to be preparation and the ability to establish good rapport with the person being called."
The upcoming webinar will focus on performance from both the preliminary reporting and live-call portions of the competition, how the information security industry fared, what this year's data reveals about the social engineering landscape, and an overall security score for each targeted company. The official SECTF report will be released on Tuesday, November 8, and will provide an outline of the detailed process contestants must undergo and individual performance in addition to flags obtained throughout the course of the competition.
What: Social-Engineer DEF CON 24 SECTF Results Webinar
When: Wednesday, November 9, 2016, 2pm EST/11am PST
Presented by: Chris Hadnagy, CEO and Michele Fincher, COO, Social-Engineer, LLC.
Register Online: http://www.social-engineer.org/ctf/def-con-24-sectf-results-webinar
About Social-Engineer, LLC – Security testing, awareness and training
Social‐Engineer, LLC is the premier consulting and training company specializing in the art and science of social engineering (SE). Social tactics are an established and quickly growing trend in information security in the forms of phishing, phone elicitation (vishing), and impersonation.
With over three decades of combined experience, Social-Engineer assists organizations in government, law enforcement, and the private sector in detection and mitigation of the devastating effects of both physical and information breaches. Social-Engineer focuses on the abilities of a hostile attacker to exploit the human element of businesses to gain access to corporate assets. Through assessment, education and training Social-Engineer helps organizations protect themselves and their trade secrets. To learn more about professional social engineering services please visit: http://www.social-engineer.com/social-engineering-services.