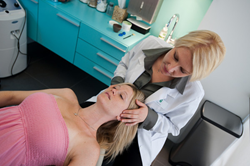 Helping clients find their best skin care routine is one of my favorite aspects of my work.
San Francisco, CA (PRWEB) October 20, 2016
The San Francisco-based skin care studio recently added a virtual boutique featuring online skin care consults at an affordable price point facilitated by Hannah herself.
"My clients are busy and like to shop online," explained founder and CEO, Hannah Sowd, "But when it comes to skin care, they often make the wrong choice for their skin type. I was inspired by the current trend in subscription sample boxes but wanted to do something more personalized while still being accessible."
Customers pay $20 the fill out an in depth questionnaire and upload a few photos of their skin. Hannah, who is a licensed esthetician with 20 years experience, uses this information to create a custom skin care routine to fit their lifestyle and address their concerns.
Their custom skin care routine is shipped with a 3 Day Turnaround Kit of product samples to allow them to try their routine before purchasing full size products. One week later, they receive an email with a link for 20% off the purchase of the full size products in their 3 Day Turnaround Kit.
Hannah Sowd Skin Care is changing the way people discover the best skin care routine for their skin type online.
See this press release online.
Contact:
Hannah Sowd
hannahsowd(at)hannahsowd(dot)com
1640 Bush Street
San Francisco, CA 94109