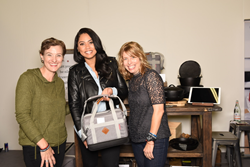 New York, NY (PRWEB) October 18, 2016
GBK, the luxury lifestyle gift lounge and special events company, partnered up once again with the Food Network, Cooking Channel and New York City Wine & Food Festival presented by Coca-Cola to host their 2016 "Thank You Lounge" for celebrity guests and chefs on October 15th & 16th. GBK was proud to take part in this annual festival that benefits Share Our Strength's No Kid Hungry campaign and Food Bank for New York City for the third year in a row. 100% of the proceeds from the festival go to these respective hunger-relief organizations.
Guests, including Neil Patrick Harris, Whoopi Goldberg, Emeril Lagasse, and more at the GBK "Thank You Lounge", were treated to a variety of fantastic gifts including Barebones, who showcased Pathfinder (a soft sided cooler) with scissors in a handmade leather case and cast-iron skillet and crock kit; ezpz, who gifted their revolutionary all-in-one placemat + plate for infants and toddlers (the Happy Mat) and ezpz's first book (Making Mealtime ezpz: Fun Ways to Fill the Happy Mat); Tuft & Needle, who offered the T&N Mattress: one style of mattress in six standard sizes that is made with T&N Adaptive Foam™, designed to provide comfort and support with localized bounce, and prevent hot sleeping, and is entirely designed and crafted in the United States; Gift Wrap My Face, who lets guests create custom wrapping paper featuring their face (or that of a pet or loved one!); ItsHot.com , who offered Luxurman Diamond watches valued at $1,000; John Boos & Co. (Boos Blocks®), who gave out hard maple edge grain BOOS BLOCK® cutting boards: 20x15 cutting boards & 24x18 cutting boards; Kiyasa Group who specializes in PROUNA fine bone china set of 4 Marble Plates, Lehmann Glass set of 6 mouth-blown glassware, Kiyasa Signature Coast sets, and Lehmann Glass set of 2 glassware: Lipper International who presented Serving and Organization items; Napa Technology who showcased Genesis, the first single bottle preservation and dispensing system designed for both sparkling and still wine. Genesis allows one to uncork, preserve, and pour their finest champagne or wine by the glass without wasting a drop. Unlike any other wine preservation device on the market, with Genesis there is no limit to how many bottles can be preserved and enjoyed at the same time. With the patented IntelliCork preservation technology, one can enjoy several of their finest still wines for up to several weeks after uncorking them, without losing any of their brilliance. And, for the first time ever, preserving sparkling wine favorites up to 5 days! Q Squared NYC gifted their Finch Royale Spoon Rest and Ruffle Tray with custom monograms; TriDerma® presented Kitchen 911™Fast Healing Cream to provide soothing relief for minor kitchen injuries and dishpan hands, while the LuxGold™Hand Balm helps moisturize with rich botanicals; BUILT NY - the one bottle wine tote insulates one bottle of wine (750ml-1L bottle) for up to four hours; Warther Cutlery - five handcrafted kitchen knives in a unique, custom made, walnut with maple inlay storage block; flip & tumble - from bag to ball, the 24-7 bag is more than just a reusable bag. Adventure in style with this modern bag on your shoulder.
Amazing travel gifts that guests were treated to included Caribbean Living - offering a 3 night all-inclusive stay at the luxury Moon Palace Jamaica Grande; and Canyon Ranch - guests will enjoy an all-inclusive 3-night vacation package at either Canyon Ranch in Tucson, AZ; Canyon Ranch in Lenox, MA; or Canyon Ranch Wellness Resort at Kaplankaya, Turkey.
Guests enjoyed delicious snacks and treats from Sugaree's - provided a $100 gift card to be used online to purchase one of their classic Southern layer cakes or homemade pies via mail order; Taco Mix, Calvisius Caviar - a "Truffle and Caviar Happy Hour", featuring a tasting of Siberian Royal caviar, from its sustainable farms in Calvisano, northern Italy; Guittard Chocolate - gifted a signature Guittard Chocolate swag bag featuring a selection of professional Single Origin and Blended Chocolates from their Collection Etienne; Lekue - offered Lekue Citrus Sprayer: Turn your citrus fruit into the freshest juice container! Spray directly from fruit to dress the recipes or aromatize the soft drinks and cocktails in the freshest way!; and Urbani Truffles - provided all truffle products from truffle thrills to truffle olive oil and cream cheese.
About GBK:
GBK, formerly GBK Productions, is a luxury lifestyle gifting and special events company, specializing in entertainment marketing integration. Formed in 2000 by Gavin Keilly, the company's Founder and CEO, GBK consists of five divisions: GBK Celebrity Gifting, GBK Special Events, GBK Weddings, GBK Charitable Consulting and GBK Marketing/Public Relations. Widely known in the entertainment industry for bringing that little extra something into the Gifting Lounge environment, GBK offers its clients a full range of marketing services. For more information on Gavin B. Keilly (CEO) or GBK, please go to gbkproductions.com.