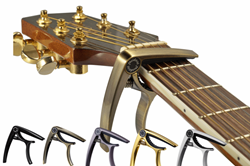 Premium aircraft grade zinc alloy
Sarasota, Florida (PRWEB) October 20, 2016
Music accessories designer and distributor, Gig Tools, is set to add to its line of guitar accessories with a state-of-the-art guitar capo. The custom-designed guitar accessory features a steel spring to provide a stable force that can withstand any playing style on acoustic, electric, bass and traditional guitars.
A silicon pad holds guitar strings in place, yet it is gentle on the instrument's neck. Gig Tools' guitar capo is manufactured from premium grade zinc alloy that has been rated as aircraft grade. Engineered for functional mechanics and practical design, users can easily manage this guitar capo with one hand to adjust to other frets.
The Gig Tools guitar capos are made in different colors to complement the style and color of the instrument. The capo is available in gold, bronze, silver, coffee and glossy black. They will be sold in single-unit blister packs through Select Pro, a marketing and promotions company. The product will initially be available on Amazon.com and on the Gig Tools Website, and the company will ship to select international destinations.
"To many guitar players, using a capo expands their repertoire almost immediately. It makes playing guitar chords easier as you can adjust the key of any song by positioning a capo on the right fret. The Gig Tools capo is user-friendly so that guitarists can explore their range. Matching the pitch of the singer when playing accompaniment is efficient with a capo," according to Shell Gellner, company CEO and the driving force behind Gig Tools and Select Pro.
Shell Gellner is an accomplished musician passionate about his craft and with helping other musicians hone their skills. He has 18 years of professional playing experience and has been credited with releasing music both nationally and internationally.
The capo is an important tool for guitar enthusiasts of all skill levels. Using a capo will shorten the fretboard length and the length of all six strings if the capo clamps down on all six strings. This effectively raises the key by a half step for every fret so that open strings will play in higher pitches than they would without the capo. Guitar players slide the capo up and down the fingerboard to find the right pitch, so manageability is an important consideration when choosing a capo.
About Select Pro
Select Pro is a marketing and promotions company founded by Shell Gellner in 2011. It is an independent company specializing in the distribution of music accessories including a line of premium quality guitar straps with leather ends also sold under the Gig Tools brand. Select Pro is active on the Amazon Marketplace and will continue to handle the distribution of other Gig Tools products on other venues.
Media Contact
To learn more about Gig Tools, please contact
Shell Gellner, Chief Executive Officer
4283 Express Lane
Suite 167-110
Sarasota, FL 34249
Business phone: 250-718-5530
webmaster(at)gigtoolspro(dot)com